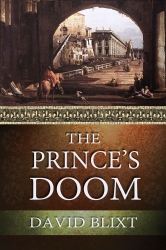 Chicago, IL, February 07, 2015 --(
PR.com
)-- Bestselling author David Blixt ("The Master Of Verona," "Her Majesty's Will") returns with the thrilling fourth novel in his acclaimed Star-Cross'd series. Inspired as both an actor and historian, Blixt takes the real people of Dante's time and blends them with the timeless characters from Shakespeare's Italian plays. The result is a smashing novel of historical fiction, alternately hilarious and harrowing.
Set in the year 1328, the city of Verona has just won its decade-long war with Padua, but lost an even longer war with the stars. Heartbroken from the events of "Fortune's Fool" (2012), young prodigy Cesco turns his troubled brilliance to darker purposes, embracing a riotous life and challenging not only the lord of Verona and the Catholic Church, but the stars themselves. Protecting him is Dante's son Pietro, who welcomes the plots and intrigues of the Veronese court, hoping they will shake the young man out of his torpor. But when the first body falls, it becomes clear that this new game is deadly, one that will doom them all.
"The Prince's Doom" is available now in trade paperback from Sordelet Ink, and will be released on Amazon Kindle on February 24th, 2015.
Sharon Kay Penman, acclaimed author of "The Sunne In Splendour," says of Blixt, "For anyone who has yet to read David's novels, you are about to hit the literary lottery. Yes, he's that good."
C.W. Gortner (The Last Queen) says, "David Blixt is a master of historical fiction. Dramatic, vivid, superbly researched, this series captures Renaissance Italy in all its heady glamour and lethal intrigue."
Blixt's previous novel, "Fortune's Fool," was the Editor's Choice of the Historical Novel Society: "This is one of the most exciting, and satisfying, reads that I have immersed myself in for a long time. David Blixt is a gem of a writer."
Born in Ann Arbor and now a Chicago actor, director, and playwright, David Blixt has been seen on the stages of the Goodman, Chicago Shakespeare Theatre, First Folio Shakespeare, Northlight, Lifeline, Griffin, as well as the Shakespeare Theatre of DC. He is a longtime Artistic Associate of the Michigan Shakespeare Festival, and founding member of A Crew Of Patches Theatre Company. This is his seventh novel.
Blixt is available for interviews and appearances. For booking presentations, media appearances, interviews, and/or book-signings, contact greyhoundverona@aol.com or visit www.davidblixt.com.