More On-Board Satellite Internet Connectivity Supplied by iSeaglobal in 2015
iSeaglobal strengthens its VSAT leadership, upgrading global C band coverage for the maritime and oil&gas markets.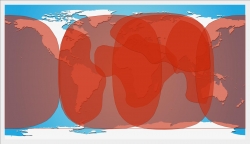 Milan, Italy, February 08, 2015 --(
PR.com
)-- Satellite Beams list: AMOS5@17°E PAN AFRICAN Beam, NSS12@57°E EH Beam, SES4@22°W WH Beam, Y202@49°E C-Band Beam, NSS9@177°W Global Beam, NSS12@57°E Global Beam, SES4@22°W Global Beam.
For iSeaglobal, the 2015 season is off to an extremely positive start. As reported by Michel Rieken, Sales VP at iSeaglobal – the Milano Teleport's maritime brand –, an increasing number of C Band installations reflects the reliability of iSeaglobal's internet and voice services for the Oil & Gas and Offshore markets thanks to service stability, flexibility and cost efficiency.
Michel Rieken's quote: "Several customers, mainly rigs, FPSOs, barges, tankers and LNG are taking advantage by selecting our combination of regional and global C Band satellite network beams. Until November 2014 the C band service was made up of 3 global beams + 1 regional beam; now we are very proud to announce an upgrade of 3 new regional beams, achieving a total number of 4 regional beams and 3 global beams. In our quest to best meet the performance requirements of this highly demanding market over recent years, we knew that, besides our value added services, we needed to focus on establishing robust multiple satellite coverage in most areas worldwide, in order to provide a reliable back-up solution. To always guarantee the best possible connection, we have developed our customised Automatic Beam Switching that selects the strongest available satellite in case of signal failure or blockage angle; in this way, your vessel will never be out of satellite coverage. iSeaglobal has honed a solution that allows us to deliver great capacity to fixed sites, such as oil platforms, or moving sites, such as support vessels. For this kind of customer, the efficiency of satellite communications services must remain at the highest level, mainly due to the presence of centralised drilling and monitoring systems, as well as the large number of employees on board who require an always-on connection. It is crucial for shore headquarters to exchange real-time information with ship crew, with regards to maintenance activities, exploration, inspection, repair, salvage and surveillance operations."
While in December 2014 Milano Teleport reinforced its C band solution with a significant +35% available capacity, in 2015 Milano Teleport expects to further increase the C band capacity on its existing network, to cater for new customer acquisitions and to support the bandwidth upgrade requirements for existing contracts. In-depth knowledge of the market, from day-to-day operations to crew welfare, means that iSeaglobal understands the importance of taking care of all aspects of service provision. Because of this, iSeaglobal ensures an all-round, expert service, from hardware provision to installation, remote and local support. iSeaglobal can also provide integrated telecommunications solutions, such as 3G/4G to a wide range of vessel types, from mega yachts, to cargo, merchant and cruise ships to connect crew and/or passengers to the internet to check emails, read news, use social media, exchange files, etc.
According to Nicola Mossino, Milano Teleport's Board Member: "Since 2006, our C Band solution has been one of the most robust and reliable on the market. Nowadays, we often hear mention of integrated telecommunication systems and innovative solutions; new technologies are trying to win over the market, but still there is still no single, solid solution. Of course we have to face up to our competition, and our highly experienced team always strives to anticipate our customers' needs, but what we are passionate about is being a top player in our core business by empowering our C band solution. The entire network is actually based on 3 main Global Beams that cover IOR, POR and AOR, assuring basic worldwide coverage. In addition, 4 more large regional beams reinforce coverage in Europe, Africa, the Middle East and Asia, where mainly Oil & Gas operations take place. As of today, Top Customers can extend the above standard global coverage by adding two more regional satellite beams, one for the East Hemi Asian region and the other for the West Hemi Americas region. Thanks to our extreme flexibility, growth in 2015 is a foregone conclusion, both in terms of new client acquisitions in specific areas like Middle East and Far East and in terms of special projects, in which we have been involved in some critical areas: for example, we have overcome the challenge of operating in extreme conditions by identifying the optimal technical solution for the Antarctic ENEA station."
iSeaglobal's primary goal is the safety of seafarers. In considering seafarers' interests, it is vital to guarantee superb quality bandwidth, in terms of security, but also in terms of crew welfare. So, while iSeglobal always aims to provide top quality services, at the same time the Company wants to respond to crew requests to reduce the cost of popular communication solutions, like voice calling and video chat, and to provide the option to enjoy services such as live TV. The satellite and the IT infrastructure at Milano Teleport has been increased for a network with high levels of bandwidth in order to enable interconnectivity and for applications that require stability in signal strength, like IPTV and the proprietary VoIP4Sat solutions; these are the most requested applications for the comfort of the crew, for business needs and for passenger leisure use. Thanks to the low bandwidth consumption and optimised support for typical satellite latency, the VoIP4SAT service allows users to make crystal clear telephone calls over the internet at low-cost rates, while IPTV offers the option to stream media, such as video or audio, using the internet connection, on a range of devices such as TVs, tablets and smart phones, allowing customers and crew on board to enjoy TV shows, sporting events, movies and news from all over the world both in real time and on demand.
iSeaglobal connects vessels to the internet via satellite.
iSeaglobal provides maritime always-on connectivity through its VSAT Ku and C band global solutions, via a constellation of over 25 geostationary satellites; its infrastructure in Europe controls a network of worldwide hubs based in Asia, Australia and the USA, which allows to provide the best possible customized service and solutions for the customers.
iSeaglobal was created in 2006 and, after 8 years in the industry, it is recognised as a global maritime VSAT player with over 250 vessels around the world, that rely on iSeaglobal for global internet connection, voice services and digital content delivery.
info@milanoteleport.com
marketing@milanoteleport.com
Contact
Milano Teleport
Manuela Seria
0039 340 2405553
www.milanoteleport.com

Contact