Intelixseo Now Offers Five Custom Marketing Strategy Packages
Intelixseo, an internet marketing company, has developed five marketing packages for companies who want to have an impact online, or need to further heighten their business. Intelixseo's strategies have become of vital importance by utilizing Search Engine Optimization (SEO) approaches to help companies get known nationally, and distributed throughout the internet.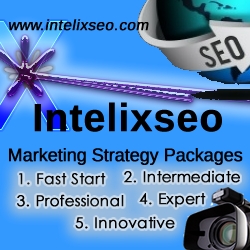 Columbia, MO, February 10, 2015 --(
PR.com
)-- Conducting business today is changing due to the growth of the internet, especially the way people search for companies, and buy their products and services online. The competition landscape has changed, therefore, it is imperative for companies to know how to get their business found. They need to know what their customers are searching for, and communicate with them in a manner they understand, by utilizing the internet.
Because of this, Intelixseo created five custom marketing strategies to help companies develop their own custom marketing plan so they can be found on the internet. Any one of their five custom marketing strategies can help companies as much or as little as they may need. The custom packages are, Fast Start, Intermediate, Professional, Expert, and Innovative.
Intelixseo's marketing strategies provide a company a way for them to understand their customers better, know their objections and fears, and what makes people "click" onto their website. If the company already has a strategy, Intelixseo's internet marketing strategies may give them new ideas and a new perspective they might not have thought about before. Intelixseo recommends the best marketing strategy is for companies to use search marketing and be online, and now they make it easy for companies to do so.
Each one of Intelixseo's marketing strategies utilize Search Engine Optimization (SEO) approaches to help companies get their products or services distributed widely throughout the internet. SEO has proven to be an effective tool in achieving a number of important marketing SEO objectives and can have a dramatic effect on the amount of traffic that a company draws to their website. SEO's primary focus is to increase website traffic and lead generation. Every SEO plan Intelixseo creates for a company clearly defines the company's SEO objectives and a clear path to accomplish them.
Intelixseo's marketing strategy packages have been customized to take into account to fit the needs for any size company, as well as help them with all of their social media setup to ensure they stay connected with their customers. If a company does not have social sites setup, such as Facebook, Twitter, etc., Intelixseo will set them up in order for the company to communicate and connect with their customers. Any one of the marketing strategies will help a company secure an online presence.
Further information of the five custom marketing strategies can be found at:
http://www.intelixseo.com
Contact
Intelixseo, LLC
Bonnie Komo
(855) 552-8718
intelixseo.com

Contact