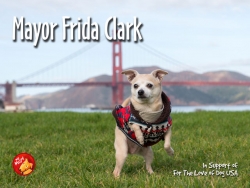 San Francisco, CA, February 17, 2015 --(
PR.com
)-- Name:
Dog Meet and Greet Party
Where:
Harper & Rye
1695 Polk St
San Francisco, CA 94109
b/t Sacramento St & Clay St in Nob Hill ...
When:
March 1st, 2015
4:00 p.m. - 6:00 p.m.
Why:
A socialization event for your dogs and of course people too.
Please bring some dog food and dog treats to be donated to Bay Area Rescue Groups. Be thoughtful and bring a bag of dog food or bag of treats to donate to the cause.
Who:
For the Love of Dog USA - For the Love of Dog USA was formed to help bring awareness to the growing issues surrounding neglected and abandoned dogs. Through social media and online efforts For the Love of Dog USA assists with the challenges of finding forever homes and bringing awareness of neglect and abandonment of dogs throughout the country. Whether it is providing rescue groups with food and supplies in under-served areas or advocating for making shelters and facilities no kill in the United States, For the Love of Dog is there for the dogs.