Arnold Table Tennis Challenge Provides Exciting Opportunity to be Part of the Arnold Sports Festival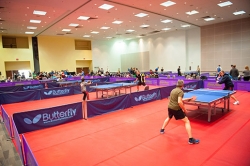 Wilson, NC, February 24, 2015 --(
PR.com
)-- On March 6-8, leading elite players and recreational enthusiasts alike will compete in the 2015 Arnold Table Tennis Challenge presented by Butterfly at the Ohio Expo Center in Columbus, Ohio. This 4-star USATT sanctioned tournament is the only one held in conjunction with a major sports festival, allowing participants and spectators to not only enjoy table tennis, but also experience the atmosphere and excitement only possible at a large scale event. With 50 different sports and an expected quarter million attendees, participation in Arnold Table Tennis Challenge at the Arnold Sports Festival will be an experience unlike any other.
All entrants into the Arnold Table Tennis Challenge will receive wrist bands allowing them to explore and spectate any of the other events in the festival. The table tennis event will be held in the Ohio Expo Center, in the same area as the Arnold Kids Festival, which provides a fun and exciting opportunity for all table tennis players (but especially juniors and families) to explore different sports, meet other athletes and learn about fitness, competition and sportsmanship throughout the weekend. In the Bricker Building located only a few blocks away from the table tennis competition venue, over 200 vendors will show off their fitness equipment focused on attracting youth to sports and competition. This will allow attendees to hold an epee sword (fencing) or learn about archery in a unique hands-on environment.
The table tennis facility has been upgraded from previous years to include fully barriered courts, Olympic level lighting, 50 Butterfly tables and Gerflor (red flooring) on feature tables. Live streaming will be provided by Butterfly throughout the weekend. In addition to elite level competition, the Arnold Table Tennis Challenge encourages recreational players to experience competition level table tennis for the first time by participating in the recreational junior/senior events, family doubles and the Ohio State Closed championships (Ohio residents only). Arnold Schwarzenegger will also pay a visit to the table tennis arena during the weekend to show his support for the sport. With a total of $12,000 in prize money and unique trophies for the top finishers in the 35 events, the Arnold Table Tennis Challenge will be an exciting and unparalleled experience for elite and recreational players alike.
Entries for the 2015 Butterfly Arnold Table Tennis Challenge are accepted until February 23rd. To enter and be part of this magnificent event, please visit
www.arnoldtabletennischallenge.com
or contact Ed Hogshead at ehogshead@landmarkbilling.com.
Continual coverage of the 2015 Butterfly Arnold Table Tennis Challenge and stories about the athletes will be available at ButterflyOnline.com, or via Butterfly North America's Twitter (https://twitter.com/butterflyonline) and Facebook (https://www.facebook.com/butterflytabletennis) pages.
Butterfly is the world leader in table tennis / ping pong equipment and gear. Butterfly will supply professional, ITTF approved Butterfly table tennis tables, net sets, barriers and Butterfly ITTF approved, 3-star balls. The professional tables used at this tournament and on the 2015 Butterfly North America Tour are for sale, reserve one today by visiting
www.ButterflyOnline.com/Tours
.
Contact
Butterfly North America
Heidi Umstead
1-800-611-7712
butterflyonline.com

Contact