New Careers and College Guidance Website Aims to Bridge Information Gap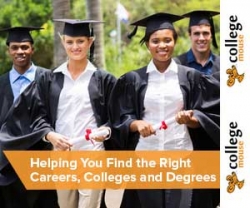 Washington, DC, February 24, 2015 --(
PR.com
)-- A new website, CollegeMouse.com, was launched today to provide comprehensive career guidance and college education resources.
CollegeMouse.com provides in-depth reviews for hundreds of potential careers, information on nearly 8,000 US-colleges and universities, as well as resources to help people apply to college, get the right financial aid, and prepare for life during and after college.
The American School Counselor Association recommends a counselor-to-student ratio of 1-to-250 but in many schools and states across the United States, the ratios exceed 1-to-500. This leaves many students with little guidance on where to look for reliable career information.
"Our goal is to make the career and college search process easier for anyone seeking to explore what is available out there," said Daniel Stephen, CollegeMouse.com's editor. "We aim to complement the services provided by schools, recognizing that many of them are overburdened by high counselor-to-student ratios."
CollegeMouse.com is ideal for anyone looking to start a new career - from the high school senior exploring their college options to the working adult looking to upgrade their skills or change career direction.
"While there are many sites that provide career information and college application resources, few sites provide an end-to-end experience," said Stephen. "With CollegeMouse.com, a user can explore potential careers, decide what is right for them, and then go on to research the potential majors and colleges to achieve their career goals."
Every year in February, National School Counseling Week, sponsored by the American School Counselor Association (ASCA), is celebrated, to focus public attention on the unique contribution of professional school counselors within U.S. school systems.
"Our hope is that school counselors across the nation will find CollegeMouse.com a useful resource for their students," said Stephen.
About CollegeMouse.com
College Mouse (
www.collegemouse.com
) is an online guide that provides help finding new careers and college education opportunities.
We provide hundreds of resources, tips, and tools for choosing a career, selecting the right course, financing a college degree or vocational skill, and finding the right job after college. Our online search tools provide information on over 8,000 colleges, plus detailed state-by-state profiles to help prospective students make informed decisions about where to study. Whether you are a high school student exploring your career options or a working adult looking to switch careers, we have the resources to help you make the right call.
Contact
College Mouse
Daniel M. Stephen
202-320-6806
www.collegemouse.com

Contact