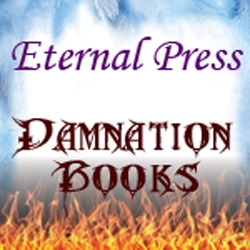 Santa Rosa, CA, February 27, 2015 --(
PR.com
)-- Eternal Press and Damnation Books are located in Santa Rosa, CA and owned by William and Kim Richards Gilchrist. The owners will release several titles on 1 March 2015 from new and returning authors. This marks the third batch of titles from both houses this year.
The following three titles will release through Eternal Press -
· Jane Book Two of the Three J'amigos Series by Rose Montague
urban fantasy, action, humor, romance, paranormal
· Her Last Resort Book Three of the Minnesota Romances Series by Fiona McGier
romance, contemporary
· Angela's Hard Winter by Andrea Crisp
romance, new adult
Damnation Books will release these titles on 1 March 2015 -
· Sacra Obscurum by Todd Allen
horror, occult/supernatural
· Terror a la Mode by Jeff Cruden
crime thriller
· The Book Of by Holly Day
horror
· Sorting the Dead by CL Bledsoe
dark fantasy/zombie
· Bloodline by Scott Alan Wade
paranormal horror
· The Crimson Bovine Book One of the Taci Brikes Series by D.R. Greco
paranormal/urban fantasy
· Harvest Book One of the Frankie Harlow Series by Beth Martinu
paranormal/YA
Damnation Books (
http://damnationbooks.com
) and Eternal Press (
http://eternalpress.biz
) release trade paperbacks and e-books in formats compatible with most popular e-readers. Titles can also be purchased through iTunes, Barnes and Noble, Amazon and other distributors in the US and the UK.
For review copies of March 2015 releases please contact
eternalpresspromotions@gmail.com
.
Contact: Sally Franklin Christie Marketing Manager
eternalpresspromotions@gmail.com