Vocalcom Won 2015 Silver Stevie® Award for Its Cloud-Based Customer Contact Center Software Solution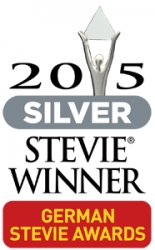 Paris, France, March 03, 2015 --(
PR.com
)-- Vocalcom, the leading provider of cloud contact center software and social interaction technology, has been awarded Best New Cloud Based Customer Experience Management Solution at the 1st annual German Stevie Awards. Vocalcom won among 200 nominees from organizations across Germany and was selected by more than 50 executives who participated in judging more than 200 solutions.
Vocalcom is an all-in-one customer contact center software solution for sales and customer service, enabling organizations to deliver a personalized customer service experience that boosts acquisition, retention and loyalty. All channels are built right into the application. They're an inherent part of the global experience. This allows customers to reach you whenever they want and with the channel of their choice. With Vocalcom's contact center software, companies benefit from sophisticated call routing features and full omni-channel capabilities so their customer service teams can session information, customer history, preferences, location, browsing activity, and other contextual information to deliver faster service and a personalized experience to every customer. Anytime. Anywhere.
"We are thrilled that the Stevie Awards recognizes our contact center software solution as a key enabler for great customer experience. Not only is it a prestigious distinction that bolsters our reputation in the industry, but it also indicates the increased importance on delivering effortless customer service and personalized customer experience. Our customer success that facilitated this recognition is highly appreciated and motivating for our talented team," said Anthony Dinis, CEO and founder of Vocalcom.
More than 200 nominations from organizations across Germany were considered this year in categories including Company of the Year, Executive of the Year and New Product of the Year, among others. Vocalcom won in the Cloud based Customer Experience Management Solution category.
"We are delighted that the German Stevie Awards have debuted with such a stellar group of winners," said Michael Gallagher, president and founder of the Stevie Awards. "We look forward to celebrating the winners and presenting them their awards at the gala banquet in Berlin on 27 March. We extend our most heartfelt congratulations to all of this year's Gold, Silver and Bronze Stevie Award winners."
About Vocalcom
Vocalcom is the leading cloud-based contact center software solution and "Social First" customer service technology, enabling greater simplicity, flexibility and cost efficiency in contact center operations. More than 3,500 companies such as McDonald's, Disney, and ITV are using Vocalcom to lower their support costs, raise productivity and customer satisfaction. Furthermore, the Vocalcom predictive dialing solution automates, organizes, and manages outbound dialing campaigns and resources, allowing businesses of all sizes to build productivity, improve efficiency, and drive sales growth and marketing success. Loved by 550,000+ users for its interface, Vocalcom is an end-to-end solution, easy to try, buy, implement, and use. For more information visit
www.vocalcom.com
About the Stevie Awards
Stevie Awards are conferred in six programs: the Asia-Pacific Stevie Awards, the German Stevie Awards, The American Business Awards, The International Business Awards, the Stevie Awards for Women in Business, and the Stevie Awards for Sales & Customer Service. Stevie Awards competitions receive more than 10,000 entries each year from organizations in more than 60 nations. Honoring organizations of all types and sizes and the people behind them, the Stevies recognize outstanding performances in the workplace worldwide. Learn more about the Stevie Awards at
www.StevieAwards.com
.
Contact
VOCALCOM
Anthony Dinis
+33155373050
www.vocalcom.com

Contact