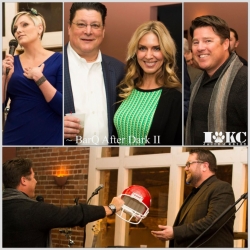 Kansas City, MO, March 05, 2015 --(
PR.com
)-- MotoFuze LLC and Gary Crossley Ford announce the success of BarQ After Dark, a fundraiser held February 28, 2015 at Californos Westport benefiting Midwest Animal ResQ. Staunch supporters of this animal rescue organization, MotoFuze, automotive division of FuzeCast and Kansas City dealership, Gary Crossley Ford, came together to sponsor this worthwhile event with live entertainment, hors d'oeuvres and more. Community supporters attended in large numbers.
"MotoFuze is happy to partner with Gary Crossley Ford to make BarQ After Dark a hugely successful event for Midwest Animal ResQ," said Mike Dullea, CEO of MotoFuze and co-founder of the Dullea Linscott Foundation. "We are working together for a great cause, and we are stronger together."
A sold-out event, proceeds from two hundred reserved ticket sales were also donated to Midwest Animal ResQ. Additional tickets were sold at the door by a decision made at the event as walk-in guests continued to arrive, helping to raise even more funds for animals in need.
During the event, guests were able to participate in donation opportunities such as silent auction bidding, live auction wins and caricature portraits by artist Eileen McCoy. Music performance by crowd-pleasing band, Neon Blue, was popular on the dance floor. The Dullea Linscott Foundation pledged $.50 on the dollar for every auction item sold, bringing the total raised to nearly $35,000.
Leadership teams from both MotoFuze and Gary Crossley Ford were in attendance, with Joey Little, Vice President of Social Strategy at MotoFuze, acting as emcee. Mike Dullea and Lisa Linscott were honored with being named "Leader of the Pack" by Midwest Animal ResQ for their notable contributions to the betterment of animals.
Midwest Animal ResQ
is a non-profit rescue organization located in Kansas City, MO, that works to save as many companion animals as possible. Animals that have been abandoned or are at risk of being euthanized at area shelters are given a chance of finding forever homes - thanks to the work being done by the volunteers at Midwest Animal ResQ.
Money raised at the BarQ After Dark gala will be used to provide items like important life-saving heartworm treatments; spay, neuter and microchip services and other necessary supplies. The support and awareness raised from the event will further provide for animals facing eminent danger as Midwest Animal ResQ works to find a home for every pet in need of one.
MotoFuze
LLC is a division of FuzeCast that is revolutionizing how automotive dealers find, engage and market to more consumers more profitably with the industry's first Customer Experience Management (CEM) system. Its all-in-one CEM solution drives content marketing, reputation management, social selling and employee engagement with supporting Social CRM, digital and search marketing tools, website enhancement products and sales force automation. This cloud-based platform offers complete mobile integration and is accessible from any smartphone with Internet connection - including Android devices and iPhones. A strategic consulting team specializing in brand impact strategy and ambassador education for large dealer groups and individual dealerships implements the MotoFuze Customer Experience Management system. FuzeCast CEM and your dealership: Stronger Together.
Gary Crossley Ford
is located in Liberty, MO as Kansas City's number one Ford Retailer in the Kansas City market. Established in 1977, the dealership has been honored with various awards from Ford Motor Company, including the Triple Crown award for multiple years. Todd Crossley took full ownership as dealer principal in 2006 and has moved the dealership into the Top 100 Ford dealers in the country. A leader in the automotive market and a charitable contributor throughout the Kansas City Metro area, Gary Crossley Ford has long been committed to the community and the car-buying consumer experience.