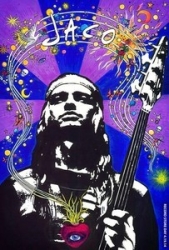 Asbury Park, NJ, March 06, 2015 --(
PR.com
)-- The inaugural Asbury Park Music in Film Festival (APMFF) unveils a jam-packed weekend of films and performances celebrating music in film to be held April 10-12. To view the schedule of events and purchase tickets, visit www.apmff.com. Headlining this exciting festival will be Metallica bassist Robert Trujillo's film JACO about legendary bass player Jaco Pastorius. The film, produced by Robert Trujillo and Johnny Pastorius, Jaco's son, and directed by acclaimed director Paul Marchand, features Joni Mitchell, Sting, Flea, Herbie Hancock, Geddy Lee, Bootsy Collins, Santana, Wayne Shorter and more. JACO tells the story of Jaco Pastorius, a self-taught, larger-than-life musician who single-handedly changed the course of modern music by redefining the sound and the role of the electric bass guitar. The film will be shown Saturday, April 11, 2015 at 8:30pm the Paramount Theatre. Following the film will be an exclusive question and answer session with Robert Trujillo, Paul Marchand, and Johnny Pastorius.
APMFF will also show over fifty submissions from local, national, and international filmmakers, as well as celebrated music films Salad Days, A Band Called Death, Take Me To The River, Riot on the Dance Floor, Rye Coalition:The Story of the Hard Luck Five, Made in Japan, multiple short films from director Danny Clinch, and a short film and performance by the legendary DMC and his son Dson. Many screenings will feature unique opportunities to speak with the directors and producers about their work. For aspiring students of film, a screenwriting competition is currently underway (submission deadline March 20) that will be judged by Noah Harpster and Micah Fitzerman-Blue, writers from the hit show Transparent. Other interactive, educational session include: a two-part screenwriter workshop led by former television screenwriter/producer Ed Ferrara, a literary agent panel and a session with the directors of concert documentaries and music videos for both Aerosmith and Metallica.
Asbury Park has long been a haven for live music and the weekend of April 10-12, raises the bar with shows by Rock n' Roll Hall of Famers, critical darlings and local heroes performing at iconic Asbury Park venues, The Asbury Lanes, Wonder Bar and The Saint. The legendary Stone Pony hosts Robby Krieger's "Doors 50" show on April 10 and on April 11, it is the setting for "Funk That Bass," a night of bass driven funk music performed by an all-star band of funk and rock heavies held down by funk pioneer Bernie Worrell. The APMFF is supported the Asbury Park Press in partnership with the Asbury Park Musical Heritage Foundation with the goal of bringing music awareness to the children of Asbury Park. "Music is an incredible gift. We want to raise awareness of the power of music, and there is no better compliment to the art than film," says Matt Hockenjos, Executive Director of the APMFF. "Our goal is to provide music education and opportunities to the youth in our community. They are the future." Sponsors of the festival include: Barnabas Health, New Jersey Natural Gas and Shop Rite.