CHOETECH Lets the Sun Shine in: Solar-Powered Charger Lets You Charge Your Devices Virtually Anywhere
CHOETECH Releases a Solar-Powered Charger with Auto Detect, for an Optimized Charging Experience.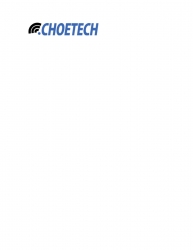 Ann Arbor, MI, March 09, 2015 --(
PR.com
)-- CHOETECH, one of the world's fastest growing telecom accessory companies, announced today, the release of the CHOETECH Foldable Solar Charger with auto detect. This compact, foldable solar charger comes with two USB ports and uses the sun's energy to power it. Using renewable energy, CHOETECH's "smart charging technology" enables users to charge both Apple and Android devices at their maximum individual charging capacities.
Both USB ports on the solar charger have a unique auto-detection feature; it intelligently detects the type of product being charged, (iOS or Android). With auto-detect, each device is charged to its maximum charging potential. CHOETECH's lightweight, highly efficient solar panels imported from SunPower have maximum conversion and transition rates. The CHOETECH Foldable Solar Charger has a total output of 19 watts and two USB ports, making this charger flexible, portable, efficient, and environmentally friendly.
Established in 2012, CHOETECH is committed to making life easier for device users. As one of the foremost companies researching and developing new charging technologies for all devices, CHOETECH offers a complete family of charging products, designed with both the device, and the user, in mind. Portability, technology, safety, and cost were significant concerns in the design and creation of the CHOETECH Foldable Solar Charger.
The CHOETECH charger eliminates user concerns about the all too common electrical issues related to charging; even with its compact size, a short circuit protection feature enables safe charging. CHOETECH's on-board, over-heating, over-charging protection circuit means there's no risk of device damage due to unsteady voltage while charging. The charger is CE, FCC, and ROHS compliant. CHOETECH uses top grade microchips in their chargers; therefore, all devices receive full power.
A market leader in device compatibility, CHOETECH's energy-efficient chargers come in many shapes, sizes, and colors, so users can pick the charger that fits your personal or business lifestyle. The CHOETECH Foldable Solar Charger is
a perfect wireless accessory, offering portability and flexibility for charging all devices. The charger is currently being sold through Amazon at http://www.amazon.com/Efficiency-Dual-Port-Portable-Foldable- Technology/dp/B00TEQJEC6/ref=sr_1_1?ie=UTF8&qid=1425395307&sr=8- 1&keywords=choe+solar+charger.
CHOETECH backs their Foldable Solar Charger with a 12-month warranty and 24x7 customer support via email. Currently, the CHOETECH charger can be purchased at Amazon.com in the United States of America for $70.00 USD.
For media inquiries or to request a CHOETECH charger to review, please contact Brooke Greenwald at media@choetech.com or via phone at (240) 360- 0866.
www.amazon.com/Efficiency-Dual-Port-Portable-Foldable- Technology/dp/B00TEQJEC6/ref=sr_1_1
Contact
choetech
Brooke Greenwald
240-360-0866
www.choetech.com
brooke@cornerstonepr.net

Contact