Eiffel Tower Installs Wind Turbines to Produce Renewable Energy on Site
UGE uses Ambor Structures Monopole for historical installation.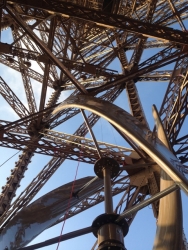 Paris, France, March 11, 2015 --(
PR.com
)-- Pursuant to the request of the Société d'Exploitation de la Tour Eiffel (SETE), UGE International Ldt (www.urbangreenenergy.com) a leader in renewable energy solutions for business and government customers, recently installed two wind turbines above the second platform of the Eiffel Tower as part of a high-profile renovation and upgrade to the monument. This iconic monument is undergoing its first major face-lift in 30 years which began with a series of efficiency upgrades. With the use of renewable energy, the ecological footprint of the Tower will be reduced. Although there is no 'High Quality Environmental' benchmark for the Eiffel Tower, one of the major goals of the project to refurbish its first floor was to achieve a significant reduction in its ecological footprint as part of the City of Paris Climate Plan.
The UGE-designed wind energy system used monopoles engineered and manufactured by Ambor Structures (http://amborstructures.com) specially painted to match the iconic tower and strategically placed to maximize energy production.
Ambor Structures is extremely honored to be part of one of the most high-profile small wind turbine installations in history. "UGE has always been on the cutting edge of product development and finding new ways to bring renewable energy solutions to the industry," said Louis Chang, President of Ambor Structures. "We're proud to have been part of such an advancement in renewable energy."
More than just a monopole manufacturer, Ambor Structures strives to offer solution-based engineering and products to its customers worldwide, ensuring every project's desired results are achieved. Solutions are custom designed specific to each project in order to produce cost-effective, durable products that will endure even the toughest environments. The Eiffel Tower project is a great example of Ambor Structures' commitment in supporting their partners in engineering and manufacturing structures.
Contact
Ambor Structures
Josh Carlson
651-414-1249
amborstructures.com

Contact