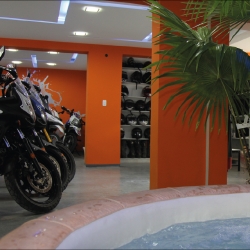 Quito, Ecuador, March 11, 2015 --(
PR.com
)-- Ecuador Freedom Bike Rental and Motorcycle Tours announced today that they have opened a new "Adventure Motorcycle Travel Center" in the middle of planet Earth – near the Equator in Quito, Ecuador. The travel station will provide maintenance and travel information services for international motorcycle adventurers and will house the new headquarters for the company's
motorcycle rental and tour operations.
The new center is expected to become a popular stop near the midpoint of the Pan-American Highway, which stretches between Prudhoe Bay, Alaska and Ushuaia, Argentina. The Travel Center will offer international motorcycle travelers a place to relax, gather and share information, and have access to high quality, trustworthy repair and maintenance services.
Located in the Mariscal Section of Quito - near many hostels, hotels, restaurants and bars – the new Travel Center provides a comprehensive collection of maps of Ecuador and South America, a fully stocked bar, plus a shower and hot tub. Motorcyclists who are travelling through Ecuador can receive mail and packages and even store their bikes and belongings for a modest fee. Artists and photographers will have a dedicated space to exhibit their motorcycle-related artwork and photographs as well.
The Center houses a state-of-the-art motorcycle maintenance and repair facility with mechanics that are highly experienced in diagnosing and correcting the most complicated mechanical and electrical problems. A hot water, high pressure wash and thorough inspection of travelers' motorcycles is available upon request. A support vehicle can be dispatched from the Center to assist travelers in any part of the country. International motorcycle travelers will have access to discounted tires, brake pads and other maintenance parts for their bikes.
The Adventure Motorcycle Travel Center will function as the new headquarters for Ecuador Freedom Bike Rental & Tours' operations as well, providing rental and tour to customers who simply fly into Ecuador to experience a country that is becoming known as "Motorcycling's Secret Paradise." The company is the first motorcycle tour operation in the country and has been operating since 2010.
"We're thrilled to be able to expand our business and operations to help Ecuador become a major travel destination for those who enjoy exploring beautiful natural areas on two wheels," stated Court Rand, co-owner of the Quito-based motorcycle tour operator. "We've benefited greatly from the information gathered from experienced international motorcycle travelers over the 5 years of operation and we are happy to be able to give back to the community."
The Adventure Motorcycle Travel Center is located at calle Juan de Velasco N26-132 between calle Santa Maria and Orellana Avenue in Quito, Ecuador. The GPS coordinates are: S 00°11'51.8" | W 078°29'29.6"