Vortex Mixing Technology Rises to the Challenge for a Value Powder Mixer
New York, NY, March 19, 2015 --(
PR.com
)-- With the development of the industry and consumer demand on the rise, high performance, efficient and complicated powder handling process technology is required by every manufacturer. While there are less labor costs, more automatic systems are appearing in factories. So, choosing the right, high performance mixer is very important for a manufacturer before committing to an investment. Every mixer has its own advantage and can be suitable for specific raw material handling. According to Vortex Mixing Technology's experience, more and more customers prefer simple and sanitary systems for food, a high efficiency system for dry mortar, an automatic system for fertilizers, an environment-friendly system for chemicals and multiple systems for other complex products.
Food Industry
No matter whether its the ribbon blender, plow mixer, paddle mixer or conical mixer, no bolts, high grade polish, no dead space and easy clean is a must for the food industry to meet sanitary and Good Manufacturing Practices standard. Generally speaking, a ribbon blender and
plow mixer
are both better for dry food powder because it provides a good mixing result in a short time and is very easy to clean. No matter which mixer is chosen, following should be addressed:
A. Smooth and Fine Polish (Polish must be at min. Ra 0.8)
B. Seal Part (like Teflon packing seal, the seal structure must be removable for cleaning and easy change for the future)
C. Vessel (there must be no dead space)
D. Discharge Valve (butterfly valve and slide gate valve has dead space at bottom of discharge port. Vortex Mixing Technology uses a flap valve in order to make the valve body fully and completely match the bottom of vessel to avoid any dead space)
E. All seal parts must be food grade.
F. Clean Port: it should be designed so workers can access every part inside the mixer easily.
G. Food Grade Stainless Steel should be used for mixer.
Dry Mortar
High efficiency and wear resistance is very important because large capacity and high abrasiveness are two key features for dry mortar or any building material. Considering the above issues, Vortex Mixing Technology must design high wear resistant and replaceable mixing elements. Big and fast discharging is another key part for dry mortar mixer because 8-10 batches per hour is needed for a large capacity product line. Furthermore, dust collection is important in order to maintain a clean environment and less pollution.
Fertilizer
With the development of process technology, more and more customers prefer automatic systems for their product line. Fertilizer is a popular industry for the use of auto system production lines including raw material storage, transportation, sieving, mixing and packaging. Each part shall be exactly calculated and well controlled by a Programmable Logic Controller system. In 2013 and 2014, Vortex Mixing Technology has successfully completed three fertilizer product lines in Chile, Malaysia and Saudi.
Contact
Vortex Mixing Technology Co., Ltd
Nick Chang
+86 18039118812
www.vortexmix.com

Contact
Multimedia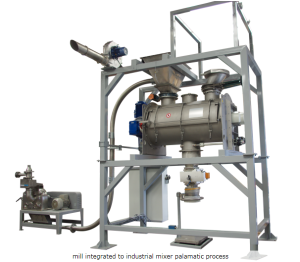 The plow shear mixer consists of a cylindrical drum containing plow shaped mixing elements that are mounted on a horizontal shaft. The agitator's shaft is positioned in the center of the drum and has welded / bolted arms on which the "Plow" shaped mixing elements are mounted.