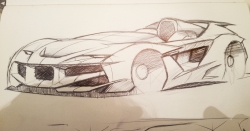 Irvine, CA, March 18, 2015 --(
PR.com
)-- When designing the Beast supercar, power and speed were not enough for Rezvani Motors's
CEO Ferris Rezvani
- the Beast needed to have '
soul
'.
With inspiration stemming from the iconic open top cars of the 1950's and 1960's, and before even starting the first sketches, the goals for the
Rezvani Beast
was to create a supercar where design trumped 'style'.
Starting with six initial sketches, allowed the designer, Samir Sadikhov's imagination to go wild with very little limitations.
Rezvani Motors then brought in automotive aerodynamics and fabrication engineers to rein in the design.
Beast
needed to be as aerodynamic as possible. Engineer Tim Gibson, who has extensive knowledge working with wind tunnels, was brought in to work with Samir Sadikhov at every step of the design stage to provide feedback on how to maximize aerodynamics.
Automotive aerodynamics requires air to go around the car, then flow back around again, with the challenge of getting air to the radiator, intercoolers, oil coolers and engine without trapping the air.
Water drop shapes were also used as much as possible, along with a flat underside to eliminate turbulence and increase downforce.
Some angles are difficult to make in carbon fiber, so changes had to be made, while the engineers also needed to ensure the body would fit perfectly over the chassis.
"For this reason, materials and
production for the Rezvani Beast
played an important role for the design when manufacturing the body molds, as fabricators would need to be able to fit the carbon fiber sheets using their hands," says Ferris Rezvani
Rezvnni designers then made two different 3D CAD design concepts, after which the final design was selected.
With the Rezvani Beast,
Rezvani
wanted to create a 'back to basics' car with soul. It had to be simple and powerful, while also involving the driver - and this is where the name 'Beast' came from.
When asked what his favorite design feature of the Beast is, Rezvani said, "The shape and placement of the headlights are my personal favorites. It's different from anything else on the road today."
Rezvani Motors used extensive use of Carbon fiber composite throughout the entire body and frame. All the body panels of are made of carbon fiber. Rezvani used carbon fiber in order to add strength to the car as well as make it ultra light weight. Rezvani Motors explains that they made the underside of Beast™ entirely flat in order to be aerodynamic at high speed.
Rezvani Motors took a detailed look at aerodynamics when designing Beast. The entire car is as low as possible to minimize wind drag. The company also replaced much of the Chassis fiberglass parts with carbon fiber. The seats are all carbon fiber and the steering wheel is entirely carbon fiber and weighs only 300 gram. Those weight savings translate into the amazingly fast 0-60 MPH times that the Rezvani Beast is able to reach.
With an open top, minimal electronics and 500 horsepower the Rezvani Motors Beast will hit the streets in mid 2015. Pricing start at $159,000 USD which is a bargain considering it's all carbon fiber and can match supercar performance that are much more expensive. For more information on the company, visit www.RezvaniMotors.com