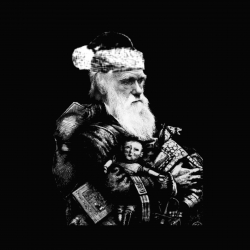 Iowa City, IA, November 20, 2007 --(
PR.com
)-- "[Atheists] don't have […] good marketing," journalist Karen Hunter said on the January 31, 2007 episode of CNN's "Paula Zahn Now". "If they had Hallmark cards, maybe they wouldn't feel so left out. We have Christmas cards. We have Kwanza cards now. Maybe they need to get some atheist cards and get that whole ball rolling so more people can get involved with what they're doing." Hunter was one of three guests who participated in an "Out in the Open Panel" that discussed discrimination against atheists.
Now, thanks to e-tailer Order of St. Nick (
http://www.cafepress.com/orderofstnick
), atheists finally have their own holiday cards. With cards featuring Charles Darwin and phrases such as "Evolve Your Beliefs" and "The Evolution of Tradition," you're not likely to find these cards in your local greeting card store anytime soon. "Almost 15% of the world's population is either atheist or non-religious. To borrow a phrase from a popular religious author, these are people that the greeting card companies have 'left behind,'" explains business owner and graphic designer Andrew Shaffer.
The response from the atheist community has been strong, with over 6,000 unique visitors within the first two weeks of the Web site's launch on November 1, 2007. As Brandweek stated in a review of the new online venture, "…In these new times, everyone should be accommodated in their beliefs and traditions, so there might well be a place for the Order of St. Nick line of greeting cards." For a full listing of available cards, visit: http://www.cafepress.com/orderofstnick/3933781.
Order of St. Nick is the holiday alternative for Winter Solstice cards, atheist holiday cards, and gothic Christmas cards. Order of St. Nick serves a diverse customer base, including atheists, agnostics, wiccans, pagans, goths, and many others who celebrate the holidays in an alternative fashion. All orders are fulfilled by Cafepress.com. Order of St. Nick is a for-profit, privately-owned small business headquartered in Iowa City, Iowa.
###