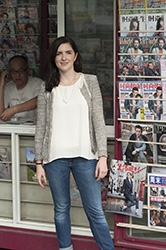 Shanghai, China, March 24, 2015 --(
PR.com
)-- Last week, Lindsay Jernigan, an American in Shanghai, launched BestEnglishName.com - the only website in China created by a Westerner and native English speaker that helps Chinese people pick an English name.
On BestEnglishName.com visitors can search through hundreds of names, read about the basics of naming culture, understand what mistakes to avoid, take a quiz, and even talk to Lindsay herself about his or her English name.
Though convincing people that Cinderella and Swallow are not appropriate names might seem easy, the big difference between Chinese and English naming culture makes it a challenge.
Lindsay explains, "We try to communicate as clearly and effectively English naming culture and the feeling of different names. What is most important is that if our clients and visitors choose to use an English name, that person picks a respectable name that he or she feels comfortable and confident using."
The average user of the site is a 20-year-old girl who is hoping to live or study abroad. She often times wants a name that is unique, not too hard to say, and starts with the same letter as her Chinese name.
Sometimes there are also strange requests for certain meanings, symbolisms, even elements like water or fire to be represented. This is where it can get a bit tricky. BestEnglishName.com strives to understand Chinese perspective of names and personal representation, while also educating and communicating the English speaker's perspective.
They feel great about the fact that a few more Chinese people are using English names that he or she can confidently put on a resume or a college application. A name is your first defining word. A name like Mars is strange and confusing to say the least. Finally there is a solution to China's English name confusion.