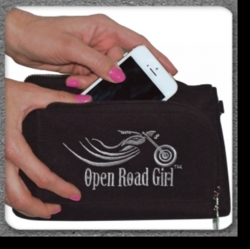 Minneapolis, MN, March 29, 2015 --(
PR.com
)-- Created for the Girl on the Go
Open Road Girl announced the unveiling of their newest line of accessories. The Open Road Girl Hip Purses, designed specifically with the woman biker in mind, enables riders to sport the purses three different ways; clip it, strap it or carry it.
"Our most functional and best anticipated accessory yet," said Malinda Johnson, Owner of Open Road Biker Gear, LLC. "Our pre-orders have exceeded our expectations."
Many customers are looking forward to the benefits of deploying their Hip Purses in the upcoming riding season. They combine durability and high quality with versatility and functionality.
"They carry our exclusive embroidered design with just the right amount of rhinestone bling," Johnson adds. There's room to hold cash, cards, keys and phones – all the necessities in one place for both short trips and cross country riding.
Hip Purses Availability
Hip Purses are part of Open Road Girl's commitment to deliver the latest products in their quest to provide comfortable and fashionable products that promote a sense of community within the fellowship of lady bikers. The purses, scheduled for release in mid-May, can be pre-ordered on their website at www.openroadgirl.com.
Founded in 2010, Open Road Girl is a leader in apparel and accessories for the woman motorcycle enthusiast.
Open Road Girl and Open Road are either registered trademarks or trademarks of Open Created for the Girl on the Go.
For more information, press only:
Malinda Johnson
612-384-6025
malinda@openroadgirl.com
For more information on Hip Purses:
www.openroadgirl.com