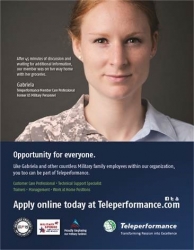 Sandy, UT, March 29, 2015 --(
PR.com
)-- Corporation and Nonprofits Band Together to Help 400 Military Families.
Operation Homefront, Teleperformance U.S.A., Big Brothers Big Sisters of Utah, and Feed the Children are partnering to support 400 Sandy-area military families on Friday, April 3. Families will be provided with food and essentials boxes in time for the Easter holiday. Members of the University of Utah's women's basketball team and various local business will be onsite site helping distribute food and essentials.
"Military families endure hardships that set them apart from the norm, as they are often far away from their support systems like family and friends," said Mark Davison, Executive Director of Operation Homefront Mountain West. "It's an opportunity to thank our men and women in uniform, celebrate their service, and provide them a little peace of mind."
"On behalf of Teleperformance, our volunteers, and those we serve in our communities domestically and internationally, we are very grateful to be working with a terrific charitable partner such as Feed the Children," said Kerry Black, Regional Human Resources Manager for Teleperformance U.S.A. "It is through the collaborations of foundations, businesses, and individuals that we are able to make a difference."
The event is one of many that Feed the Children and Teleperformance U.S.A. have planned across the country, ensuring that children and families can focus on being families instead of focusing on hunger this year.
About Feed the Children
Feed the Children is one of the world's leading anti-hunger organizations, dedicated to creating a world where no child goes to bed hungry. Since 1979, Feed the Children has grown into one of the largest U.S.-based charities, accredited by GuideStar Exchange and the BBB Wise giving Alliance, and given a 4-star rating from Charity Navigator. By banding together with partners, donors and communities to defeat hunger, Feed the Children distributed over $344 million in food, essentials, educational supplies, and medicine to over 10 million individuals in the U.S. and 18 other countries in fiscal year 2013. Visit www.feedthechildren.org for more information.
About Operation Homefront
A national nonprofit, Operation Homefront leads more than 2,500 volunteers with nationwide presence who provide emergency and other financial assistance to the families of service members and wounded warriors. Operation Homefront has provided assistance to thousands of military families since its inception in 2002. Recognized for superior performance by leading independent charity watchdog groups, nationally, 92 percent of total donations to Operation Homefront goes directly to programs that provide support to our military families. For more information, go to
www.OperationHomefront.net
.
About Teleperformance Group
Teleperformance, the worldwide leader in outsourced multichannel customer experience management, serves companies around the world with customer care, technical support, customer acquisition and debt collection programs. In 2014, it reported consolidated revenue of €2,758 million ($3,665 million, based on €1 = $1.33).
The Group operates around 135,000 computerized workstations, with more than 182,000 employees across around 270 contact centers in 62 countries and serving more than 160 markets. It manages programs in 75 languages and dialects on behalf of major international companies operating in a wide variety of industries.
Teleperformance shares are traded on the Euronext Paris market, Compartment A, and are eligible for the deferred settlement service. They are included in the following indices: STOXX 600, SBF 120, Next 150, CAC Mid 60 and CAC Support Services.
 Symbol: RCF - ISIN: FR0000051807 - Reuters: ROCH.PA - Bloomberg: RCF FP.