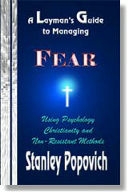 Pittsburgh, PA, April 07, 2015 --(
PR.com
)-- Stan Popovich is the author of "A Layman's Guide To Managing Fear using Christianity and Non Resistant Methods" - an easy to read book that presents a general overview of techniques that are effective in managing persistent fears and anxieties.
Stan's managing fear book has become very popular with over 300 positive book reviews and counting on Amazon, Barnes & Noble and on the Internet.
Stan has struggled with fear and anxiety for over 20 years. Stanley has used his writing skills and personal experiences to educate readers on how to deal with fear and anxiety. He was educated at Pennsylvania State University and has used these approaches in his own life.
Stan has interviewed various professionals in the counseling fields and published a book based on his experiences. Stan's book was reviewed by many professionals in the counseling field before it was published and many of them use Stan's book to help many of their clients.
Stan has been on many TV and Radio programs around the U.S. and his writings have been published in various newspapers, websites, and magazines around the world. Stan has also won numerous awards for his book. Mr. Popovich also has 1000's of fans on Facebook, Twitter, and Linkedin
Stan understands that some people who struggle with fear, anxiety, depression, and addiction need to try a number of different approaches in order to get certain results. Stan's book offers many different kinds of options for overcoming fear and anxiety.
10 Reasons You Should Look At This Popular Book:
• It gives you over 100 techniques for managing your anxieties.
• Very popular with over 300 book reviews and counting.
• Will save you money from expensive counseling.
• It teaches you strategies that you can implement today.
• It is a quick, easy, and very effective read.
• All methods have been reviewed by counselors.
• Techniques are backed up with real life examples.
• It gives you immediate relief.
• Author can relate to his readers
• It is very affordable.
Please visit Stan's website at www.managingfear.com for additional information on his popular book, published articles, helpful book reviews, and TV and radio interviews.
Stan can be reached at stanpop822@gmail.com and 412-430-2807