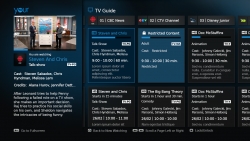 Las Vegas, NV, April 12, 2015 --(
PR.com
)-- Minerva Networks, a leading provider of software platforms for connected entertainment, unveiled a complete solution for the delivery of over-the-top pay television services. The turnkey solution features a robust service management back-office, certified third-party adaptive bit rate transcoders and origin servers, and a range of client applications for consumer devices including Roku, Amazon Fire TV, Apple and Android-based tablets and smartphones. Powered by Minerva's connected entertainment platform, the new solution enables operators to offer streamlined television services including Linear TV, Restart TV and Catch-up TV to all of their broadband subscribers. By supporting consumer electronics devices like Roku and Amazon Fire TV, service providers can eliminate expenditures associated with set-top boxes and truck-rolls to deliver a cost effective television experience in competition with emerging OTT entrants.
"Legacy solutions are no longer capable of supporting the rate of innovation required to remain competitive and meet the needs of customer segments interested in higher-value TV bundles. Service providers need new platforms that allow them to offer differentiating services while minimizing capital investments and operational complexity," said Eric Freund, Minerva's Vice President of Product Marketing. "With our new solution operators will be able to broaden the appeal and extend the reach of their Pay TV services."
With Minerva's solutions service providers can now deploy a range of Pay TV packages; from feature rich, STB-based services like whole home DVR, personalized VOD, and network-based time-shifting, to entry-level linear TV services to consumer electronics devices – all through a single back-office.
"As overall viewership continues to shift away from traditional pay TV platforms towards open, OTT platforms like Roku, it is critical for existing pay TV operators to embrace these new platforms in order to retain and grow subscribers," said Colin Dixon, Chief Analyst and Founder of nScreenMedia. "Platforms like Minerva's that support delivery of services across a range of consumer electronics devices provide the tools that operators will need to remain competitive."
Minerva will be demonstrating the new OTT Pay TV solution at its booth (#SU10413) at the NAB show.
About Minerva Networks
Minerva is a leading provider of software platforms for connected entertainment. By supporting a best of breed open ecosystem, the Minerva platform has been deployed by over 290 operators worldwide to offer enhanced next-generation TV entertainment services.
For more information, please visit www.minervanetworks.com