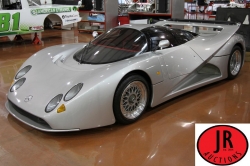 Monterey, CA, April 14, 2015 --(
PR.com
)-- Cannery Row Auto & Yacht Auction: Aug 12th thru Aug 15th.
Four days of Auctions and Four nights of fun.
Just when you thought you knew all of the supercars out there and you'd just about seen everything, another one appears from seemingly out of the woodwork and surprises you once again.
It's known as the Lotec C1000, and was built as a one-off project for a wealthy United Arab Emirates businessman back in 1995. According to the car's current owner, the car was commissioned back in 1990 with the aim of building the world's fastest street vehicle. After 5 years and $3.5 million, the project was completed. The result? An all carbon fiber body (hence the "C") and a 5.6L Mercedes-Benz V8 with twin Garrett turbochargers that generate 1000 horsepower (hence the "1000").
With a quoted top speed of 268 mph, it's hard to argue that the project was anything but a success. The gearhead's dream McLaren F1 would have arrived a few years before the Lotec project was complete, but with the McLaren's top speed in the 240 mph range the C1000 would have truly eclipsed it. Even today, Bugatti's mighty Veyron Super Sport is limited to 257 mph, with 267 possible in the hands of a professional driver, so the older Lotec still wins by a nose.
At around 3 seconds from 0 to 60, the thousand-horsepower, Mercedes-Benz twin-turbocharged V-8 Lotec is quick off the line too, though this is one area where modern transmissions, tires and chassis settings have moved the game on. There are more highlights though, such as a 2,381-lb curb weight and a "breathtaking" exhaust note. The styling is every inch the early-90s concept car and the interior is more like that of a race car than a road-going vehicle. The cockpit (because that's what it really is) is a mix of red leather and carbon fiber, and has adjustable pedals and steering column.
The Lotec is projected to sell for between $750,000-$1,000,000. Compared to the $3.5 million paid by the anonymous UAE businessman, that's something of a bargain...
To become a bidder please go to www.jr-auctions.com
For other consignment entries please call Robert Tybor at 844-572-8867 Ext 2.