New American Media Distribution Wire Service Release - Glennie Has Men's Fashion Tied Up
Glennie Has Men's Fashion Tied Up! For 20 years now Minnesota Fashion designer has been working to break the monotony of Men's Formal wear. A Revolutionary, never-seen before necktie and historical new look in Men's fashion.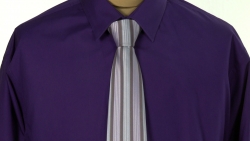 Los Angeles, CA, April 15, 2015 --(
PR.com
)-- For 20 years now Minnesota Fashion designer has been working to break the monotony of Men's Formal wear. Since the truly awful designs of the 80's and 90's there has been little change in Men's formal wear. Aside from some brief, fleeting fads here and there, little has changed in the male suit in over a hundred years.
Regis Philbin made the solid color tie look popular but outside of that the shirt and tie look has remained virtually the same for 20 years. In the fashion world that is an eternity!
Glennie has a total of 15 US patents all in fashion. Six of these are for neck ties. The next big thing in Men's fashion is not coming out of Paris, London or New York. It has come out of International Falls Minnesota.
The discovery was first noticed by Hall of Fame NFL player and Coach Mike Ditka. Ditka saw Glennie's neck ties and showed them to his co-sportscasters Cris Carter and Michael Irvin and they loved them and they started wearing them on the air in September 2012 and the patented design has been seen as recently as March 1st 2015 worn by Herm Edwards on ESPN.
With no relevant fashion designs coming out of the US since Tommy Hilfiger, who was discovered in 1985 and no formal wear designs out of America since Ralph Lauren. Glennie was inspired by the fact that Ralph Lauren began his fashion career by selling neck ties out of a briefcase in the 70's.
The key to Glennie's patented design is that he has made the horizontal/vertical striped tie look great! Instead of the lines running in different directions and making the tie look awkward he has designed the tie so that you simply make a regular knot in the tie and the stripes are flowing in the same direction and the difference in the look is stunning. Most men with a mirror will not wear a traditional striped tie because it looks terrible compared to Glennie's design.
You can see all of Glennie's designs and order your 100% silk ties for $100.00 a piece or three for $200 at ericglennie.com. For now it seems the major stores and fashion giants have yet to bring Glennie's work into the fold. It is curious. Are they not paying attention because Glennie is in the mid-west? Many might think that a fashion break through could surely only originate in New York, Milan, London or Paris.
There is a significant list of celebrities, however, that might disagree. Entertainment Tonight anchor Mark Steines, ESPN's David Lloyd, Trey Wingo, Robert Smith and Tom Jackson, NFL sportscasters Terry Bradshaw, Ron Jaworski, Rich Gannon and NBA's Gregg Anthony, Dennis Scott and Shaquille O'Neal have all appeared on national TV wearing Eric Glennie's neck ties.
The power of stripes in men's fashion is well known. The well placed stripes can make a man look taller and leaner or broader. The eye is drawn to the neck tie on a man wearing a suit and has arguably been the single most important fashion accessory in men's fashion since the nobles dawned the ascot in the 17th century.
There have been recent articles out of Milan and the London Independent and the New York Times that have complained about the lack of innovation in men's fashion for such a long period of time.
All one needs to do is turn their head from the fashion capitals and look towards International Falls, Minnesota in the heart of the U.S.A and the innovation the fashion world craves is waiting to be picked up and tied on.
James Cook
Reporter
AMD World News
Contact
Eric Glennie Apparel Designs LLC
Eric Glennie
952-913-8708
ericglennie.com
James Cook
AMD World News
American Media Distribution

Contact