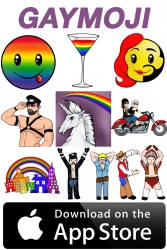 Austin, TX, April 17, 2015 --(
PR.com
)-- Humans have used symbols to communicate since the first hominids scratched pictograms onto cave walls. But in the thoroughly modern age of emojis, commonly available images just don't fit every user. That's why a trio of creative Austinites developed Gaymoji — a new app featuring a series of emoticons designed by and for members of the LGBT community. The user-friendly iPhone/iPad app, available in Apple's
iTunes store
, includes a downloadable keyboard for iOS8 users. (An Android version is coming soon.)
From the ultra-clever Village People emoji to dykes on bikes, testosterone vial, leather daddy and similar icons, Gaymoji are designed to "speak" for the lesbian, gay, bi and under-represented transgender community. The 99-cent app features over 65 emojis, with more being added regularly. With the catchphrase, "Show your emojis! Pride app made by queers, for queers," Gaymoji are ready to convey all kinds of messages to LGBT-friendly audiences.
The app was conceived and developed by Janet Jensen, Eric Gerzymisch and Rich Bond, doing business as Whapp! LLC. All three are members of Austin's filmmaking community: Jensen manages the creative, Gerzymisch built and coded the app and Bond handles the business side.
In a recent New York magazine article on the subject, "Emojis are a new way of expressing ourselves; it's a whole new language," says Bond. Adam Sternbergh observes, "Emoji are a secret code language made up of symbols that everyone already intuitively understands."
But standard emojis don't speak adequately for members of the LGBT community, as Jensen knows from both her own experience and the subjects of her in-progress documentary; for the past two years, she has been following three young professionals as they complete their transition from female to male. "Transgender rights are something that I feel passionately about," she explains. "I wanted my trans friends to be able to express themselves with emojis, too."
"While shooting my film, I have become involved in the Austin queer community and questioned everyone about what emojis they would like to see. I wanted to create a unique way of expressing ourselves that was specific to our experiences," Jensen explains.As more and more of our communication takes place in shorthand bursts, emoji are gaining popularity among users of all ages and persuasions. With Gaymoji, the LGBT community can now emote visually, too — with pride.
Contact: Janet Jensen,
whappapps@gmail.com
, 512-695-7314