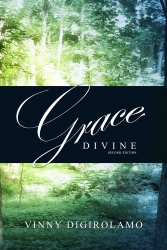 Salt Lake City, UT, April 21, 2015 --(
PR.com
)-- Celestine Publishing (
www.celestinepublishing.com
) announced its latest publication, the Second Edition of, "Grace Divine," by Author, Vinny DiGirolamo. This latest edition adds new material to help the reader digest a new definition of grace and see how it relates to more than thirty other important topics like faith, hope, charity, works, and salvation.
DiGirolamo says, "Grace is one of the least discussed gospel topics in this dispensation and is not fully understood by most, if not all, Christian sects. Many Latter-day Saint authors who write about grace mention it briefly and move quickly onto the atonement of Christ as the ultimate act of grace without adequately addressing what grace itself is, what effect it has on our lives, and how we are saved by it."
On the other hand, DiGirolamo focuses specifically on grace and provides several unique perspectives by extending its definition consistent with the restored gospel of Jesus Christ and the plan of salvation. He declares, "We are not only saved by grace, we are sanctified and exalted by it." In this latest edition of Grace Divine, the Author leads us on a personal journey to discover a new definition of grace, demonstrates how we are saved by it, and describes how grace applies to a myriad of other important gospel topics never before explored in this way.
"Grace Divine" contain the largest compilation of new thinking on the topic of grace since the beginning of this dispensation. It is available at Amazon.com or directly from Create Space at
www.createspace.com/5407954
. Celestine Publishing was established in 2002 is the publisher of the "Principles with Promise" series; topical guides that catalog thousands of scriptural doctrines and principles for Latter-day Saints, Catholics, and the rest of the Christian world. Celestine Publishing's website also contains links to other fiction and nonfiction titles and several blog articles on a variety of scriptural and real world topics.