fring Goes Web. fringME! Web Widget Brings Location-Based Presence and Chat Between fringsters and Internet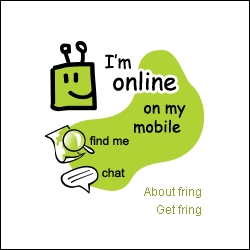 London, United Kingdom, November 23, 2007 --(
PR.com
)-- fringTM has just announced a major step in its evolution with the launch of fringME!TM - a new, free-to use widget which allows fring users ("fringsters") to stay connected with each other and all their internet communities.
The fringME! widget enables fringsters to take their favourite fring features and apply them to their various social network pages, blogs, online auctions, web sites and even email signatures - in fact pretty much anywhere the user has an internet presence, fringME! enhances communication and connectivity between the fringster and his/her online world.
Once installed on a webpage, the fringME! widget allows internet community members and all other internet users the opportunity to access some of fring's most popular functions, including the ability to view the fringster's 'availability' (online, offline, or 'in a call'), and instantly begin a fring IM chat session, regardless of the fringster's location.
In addition to offering familiar fring features, the fringME! widget also includes a number of new innovations, the first of which is a real-time, location-based "find me" presence feature, which instantly opens a GoogleMapsTM window showing the fringster's real time on the move whereabouts via his/her GPS-equipped handset. Privacy settings inside fring'sTM mobile software enable the service to be switched on or off, depending on the fringster's desire to be locatable at any one time.
Commenting on the impact of the launch of fringME! Avi Shechter, co-founder & CEO of fring said: "The fringME! widget represents a natural and important step in fring's evolution. First we introduced our core offering: free fring to fring mobile VoIP, live IM-style chat and presence. Then we made it possible for fring members to communicate with users of different internet services and communities such as Skype, MSN and GoogleTalk. And now with the fringME! widget's popular fring functionality, its location based services, and other features due to be announced in the near future, fring is truly opening up the web, further breaking down barriers of communication and giving every fringster and every internet user, even more options for making connections with each other."
"More and more, fring is expanding beyond mobile VoIP. It is becoming a valuable tool that enables users to take both their communications and online lives mobile."
The fringMe! widget is free to use and available via a quick process. Firstly, download the latest version of fring onto any supported mobile device by visiting www.fring.com. Then, visit the fringME! web page at www.fring.com/fun to choose a preferred widget design and paste a small piece of html code onto the chosen blog or web page destination.
To a get first hand impression of fringME! in action, simply visit the fring blog at http://www.fring.com/blog/ which is already enhanced with the widget, with the real time availability indicator, live chat and real time location based presence.
###
Contact
Fringland Ltd.
Jon Russell
+44 (0)20 7751 4444
www.fring.com
Mi liberty

Contact