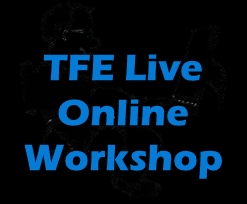 Sarasota, FL, April 28, 2015 --(
PR.com
)-- Training for Entrepreneurs.com (TFE), a web-based entrepreneurial Business Resource and Learning Center, is pleased to announce today that enrollment is open for the micro-learning workshop, Communicating Effectively. This Live Instructor-Led Online Workshop will take place Wednesday, May 6th at 2:00 pm EST.
The purpose of the Communicating Effectively Workshop is to equip participates with a range of tools, tactics, and techniques that will help them to communicate more effectively with clients and colleagues, making their communication more impactful, persuasive, and confident. The Workshop provides participates with the opportunity to understand how communication works and how to communicate with poise and flair.
This Workshop is suitable for those individuals who want to express themselves more effectively and maximize their impact in front of an audience.
The Communicating Effectively Workshop is a micro-learning event that provides training in a short – 90 minute -- digestible, bite-sized unit that is readily accessible via devices such as mobile phones, tablets, laptop, and desktop computers. This micro-learning event helps to address the problem of dwindling attention spans and provides next-gen workforce training with a less time-consuming, less-costly, more laser-focused learning experience than traditional training methods.
"We're thrilled to be opening enrollment for our Communicating Effectively Workshop which is one in a series of nine (9) soft skills training workshops that we are hosting in 2015," states Terry H. Hill, Co-Founder, and the Chief Business Mentor of Training for Entrepreneurs.com. "This May 6th Workshop addresses four common communication challenges: listening in communication, communication in teams, lateral communication, and communication during organizational stress."
Learn more about this live, online event and to reserve a seat for this May 6th 2:00 pm EST Workshop, visit
http://www.trainingforentrepreneurs.com/communicating-effectively-workshop
.
About Training for Entrepreneurs.com TFE is a web-based business resource and learning center that works in three primary areas: Facilitators of a web-based entrepreneurial development community, Creators & Publishers of educational content for small and medium-sized businesses, and Trainers & Mentors of live online Soft Skills Workshops, live Virtual Mentoring Programs, and live onsite Workforce Training Seminars. For more information, call 941-556-1299 or visit Training for Entrepreneurs.com
Media Contact: Dolly A. Stevens, Executive Director
Phone: 941-556-1299
Fax: 941-866-1953
E-mail: Media@TrainingforEntrepreneurs.com