Hoana Partners with Automotive Seat Manufacturer Faurecia to Introduce "Active Wellness™" at Auto Shanghai 2015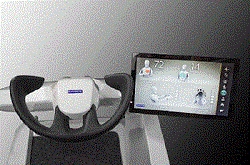 Honolulu, HI, April 29, 2015 --(
PR.com
)-- Hoana Medical, Inc., a leading medical technology company based out of Honolulu, HI, is partnering with top tier OEM automotive seating manufacturer, Faurecia Worldwide (EO:Euronext Paris), to present the Active Wellness™ seat at Auto Shanghai, Asia's premier automotive showcase for car makers and manufacturing technology; taking place in Shanghai, China on April. 22-29, 2015.
Utilizing Hoana's state-of-art sensor technology and advanced proprietary algorithms, the Active Wellness™ seat is the first of its kind prototype, designed to better connect a vehicle to the driver. The seat invisibly monitors the driver's physiological information and instantaneously translates these invisible "driver demands" to changes in the cockpit environment, culminating in a more comfortable experience. It is the world's first vehicle seating system that not only detects the physical and mental status of occupants but also invokes countermeasures to restore travelers to a healthy driving condition.
About Auto Shanghai 2015
Auto Shanghai ranks as one of the most important and respected auto shows in the world and is held biennially, alternating with the Beijing Auto Show. Started in 1985, Auto Shanghai 2015 is the 16th edition and will be held in the National Center for Exhibition and Convention from April 22-29. With the theme of "Innovation for Upgrading", the event will showcase the fascination of Asia to the automobile industry, technological innovation and the new lifestyle brought by auto culture.
About Faurecia
Founded in 1997, Faurecia has grown to become a major player in the global automotive industry. A leader in each of its four areas of business (Automotive Seating, Interior Systems, Emissions Control Technology, Automotive Exteriors), the Group is backed by a R&D and production network with sites in 34 countries. It is the preferred partner of the world's largest automakers, which value its operational excellence and technological expertise.
Faurecia Automotive Seating is a leader in the design, development and manufacture of automotive seating. The Group produces the full line of components that go into automotive seating including frames, seat covers, accessories and electronic & pneumatic systems. It also assembles complete seats—both front and rear—for just-in-time delivery to its customers' plants. Drawing on technological savvy that has won recognition from premium automakers, Faurecia works alongside its customers to develop solutions that focus on safety, modularity, comfort and perceived quality.
About Hoana Medical, Inc.
Launched in 2002, Hoana is the world's leading healthcare company focused on "Intelligent Medical Vigilance." A spinout of Hawaii's preeminent technology firm, Oceanit (www.oceanit.com), Hoana originally created its sensing technology for the U.S. Department of Defense but soon turned its focus to address the problem of unnoticed critical events which often lead to increased medical complications and even death for patients in acute care hospitals. Designed for effective and inexpensive healthcare delivery, the company's first U.S. Food and Drug Administration (FDA) cleared offering, the LifeBed I, transforms any hospital bed into a medical vigilance system, capable of accurately tracking a patient's vital signs without any wires, leads or connections. Hoana has plans to expand beyond the acute care hospital environment into nursing home and home care as well as consumer-focused general wellness technology with its second generation system which will contain the same robust technology as the first version at a very affordable price. Hoana is headquartered in Honolulu, Hawaii. For more information, please visit http://www.hoana.com/.
Contact
Hoana Medical, Inc.
Edward Chen
808-523-5410
www.hoana.com

Contact