Save Time Job Posting - Use Job Scraping
Job scraping tool can save pharma recruiters and employers huge amounts of time.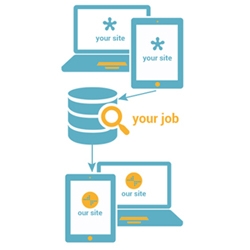 Bracknell, United Kingdom, May 07, 2015 --(
PR.com
)-- PharmiWeb.com, the longest established pharma job board for in Europe, has recently introduced Job Scraping to its arsenal of online recruiting tools.
The Job Scraper, ensures that recruitment companies and Pharma employers can be sure that all their jobs appear automatically on PharmiWeb.com without any manual intervention at all. This can save huge amounts of time for pharma recruiters, HR teams and talent managers, as the process is completely automated, posting new jobs, updating existing ones or removed expired jobs - everything is kept in sync with the client's own job website.
PharmiWeb are now using the scraper to import job from pharma companies such as Roche & Celgene as well as clinical research companies such as PPD, and even its own digital solutions business
PharmiWebSolutions.com
.
Mike Wood, PharmiWeb's Business Manager says, "It saves our clients so much time, and ensures that the jobs are always up to date on our job board - and it provides a viable alternative to multi job posting tools. We can send candidates directly back to the job on the client website or process the job application and forward by email."
About PharmiWeb.com
PharmiWeb.com, established in 1999, is Europe's longest established Pharma Job Board, providing thousands of pharma, biotech, and clinical research jobs across the UK, Europe and the USA. PharmiWeb.com is a product of PharmiWeb Solutions - Providers of digital solutions for pharma and healthcare - For more information
www.pharmiweb.com
Contact
PharmiWeb.com
Mike Wood
+44 (0)1344 859636
www.pharmiweb.com

Contact