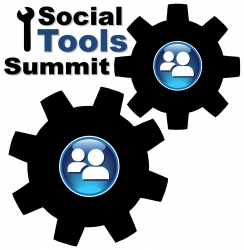 Boston, MA, May 08, 2015 --(
PR.com
)-- Trender Research (www.TrenderResearch.com), producers of the Social Tools Summit (www.SocialToolsSummit.com), announced today that Ron Schott, Director of Professional Services at Simply Measured is a featured speaker at the Social Tool Summit, held at the Boston Omni Parker house on May 12, 2015. Simply Measured is the industry leading provider of social media analytics for over 45 of the Interbrand Top 100 brands. The Social Tools Summit conference is part of a week-long series of events during "Social Innovation Week" (www.SocialInnovationWeek.com), gathering many of the world's leading social media experts and corporate practitioners to discuss ways to improve the efficiency and return-on-investment (ROI) of social media programs.
The Social Tools Summit is a unique conference that showcases the wide variety of social media tools available for companies large and small, how they can be fully leveraged, and real-life examples of how businesses are deriving ROI from them. The Summit is targeted at executives and managers in social business, social media, marketing, strategy, public relations, corporate communications, sales, business development, and human resources. The Social Tools Summit provides an unparalleled opportunity to learn from social media power users and the tools vendors themselves, in a fun, highly interactive atmosphere. The Summit is also gameified, with one attendee attaining enough points to win the "Social Genius" trophy.
"Simply Measured is certainly a leader in the industry," said Neal Schaffer, Author of "Maximize Your Social" and Co-Founder of the Social Tools Summit. "Ron is one of those experts I go to when I am trying to see where the industry is headed and what's possible, so it's wonderful he can share his insight with our audience."
In addition to the topic Mr. Schott is speaking on, other session titles include:
• Optimizing Your Workflow with Social Media Dashboards
• Best Practices in Real-Time Social Listening and Monitoring
• How to Use Your Fans and Employees to Build a Social Advocacy Program
• Analyzing the Business Value of Your Social Media Program
• Marketing Automation That's... Well, Automated
• Content Is King! Long Live Content Marketing!
• The Future of Visual Social
As a complement to the expert speakers, a focus group of social media power users will help keep the conversation grounded in the everyday realities of digital marketers.
The Social Tools Summit is a one day event and is open to professionals across the industry. For more information or media inquiries, contact Brian Mahony, bmahony@SocialToolsSummit.com.