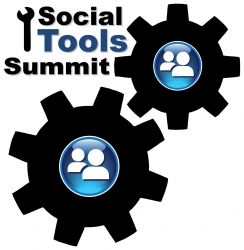 Boston, MA, May 08, 2015 --(
PR.com
)-- Trender Research (www.TrenderResearch.com), producers of the Social Tools Summit (
www.SocialToolsSummit.com
), announced today Likeable Local's Dave Kerpen as the keynote speaker, and Likeable Local's Nicole Kroese as a featured speaker. Likeable Local is a leading provider of intelligent social media marketing software solutions for businesses to help them build, engage, and grow with social media. Dave Kerpen is keynoting the Social Tools Summit with his session entitled The Indisputable Number One Tool and Nicole Kroese is speaking in the session titled Optimizing Your Workflow With Social Media Dashboards. The Social Tools Summit, held at the Boston Omni Parker House on May 12th and part of a week-long series of events during "Social Innovation Week" (www.SocialInnovationWeek.com), gathers many of the world's leading social media experts and corporate practitioners to discuss ways to improve the efficiency and return-on-investment (ROI) of social media programs.
The Social Tools Summit is a unique conference that showcases the wide variety of social media tools available for companies large and small, how they can be fully leveraged, and real-life examples of how businesses are deriving ROI from them. In addition to the informative panel discussions, attendees will participate in the "Product SpeedCase" that allows them to see a 5-minute demonstration of sponsors' products and services. Attendees will then vote on the "Best of Show" which will be announced during the closing ceremony. In addition, one attendee will be awarded the "Social Genius" trophy by winning the game system used during the Summit.
"Likeable Local is certainly a leader in the industry," said Neal Schaffer, Author of "Maximize Your Social" and Co-Founder of the Social Tools Summit. "Likeable Local's software, Likeable Hub, helps to solve key challenges for business owners in executing, scaling, and affording successful social media marketing. Dave Kerpen's one of those experts I go to when I am trying to see where the industry is headed and what's possible, so it's wonderful he can share his insight with our audience."
"In the digital age, it's all about finding the right tools to give you access to your social media success. Our mission at Likeable Local is to build a fantastic tool that allows business owners to do just that, so I'm thrilled that Likeable Local has partnered with the Social Tools Summit to pave the way for innovation together," said Dave Kerpen. "I'm thrilled to be a part of this."
In addition to the topics Mr. Kerpen and Ms. Kroese are speaking on, other session titles include:
• Best Practices in Real-Time Social Listening and Monitoring
• How to Use Your Fans and Employees to Build a Social Advocacy Program
• Analyzing the Business Value of Your Social Media Program
• Marketing Automation That's... Well, Automated
• Content Is King! Long Live Content Marketing!
• The Future of Visual Social
As a complement to the expert speakers, a focus group of social media power users will help keep the conversation grounded in the everyday realities of digital marketers.
The Social Tools Summit is a one day event and is open to professionals across the industry. For more information or media inquiries, contact Brian Mahony, bmahony@SocialToolsSummit.com.