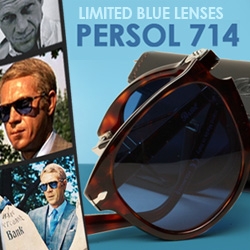 Los Angeles, CA, November 27, 2007 --(
PR.com
)-- If one had to think of the perfect "classic cool" sunglasses it would be hard to top the Persol 714 folding sunglasses. This limited release item is now available at http://www.eyegoodies.com . The classic timeless design is not only distinct from all the look a like sunglasses made today, but the craftsmanship of the frame also stands far apart from the rest and features a folding design for that extra cool factor.
Persol 714 sunglasses are perhaps most recognized and given iconic status from Steve McQueen who was seen wearing the classic shades both off screen and on screen in movies such as the "Thomas Crown Affair" and the "The Getaway". In fact a pair of 714's from McQueen's personal collection was recently auctioned for a stunning $70,200 in 2006.
Sunglasses Collectors have long sought after the frame, as the Persol 714 has not been produced for decades. By popular demand the Persol 714 is back in the exact original form, and eyegoodies.com has them.
Persol 714 with Blue Lenses ( http://www.eyegoodies.com/Persol-714-Custom-pr-16551.html)
Also as many of you are aware one of the most regarded Persol 714's of Steve McQueen was a pair with custom tined blue lenses, to pay tribute to this eyegoodies.com will be offering these exclusively for a very limited time (in addition to the standard Persol 714). However, be warned this is a limited production and inventory will be very limited on this highly idolized frame.
Persol 714 sunglasses are without a doubt among the greatest sunglasses ever created and deserve a place in every mans sunglass collection.
Shop Persol 714 Sunglasses with blue lenses
Shop Persol 714 sunglasses
read the full Persol review:
http://www.eyegoodies.com/Persol-Review-p-32.html
###