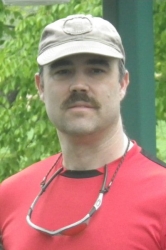 Westminster, MD, May 29, 2015 --(
PR.com
)-- Drew M. Lermond of Westminster, Maryland has been included in the Strathmore's Who's Who Worldwide Edition for his outstanding contributions and achievements in the field of medical devices.
About Drew M. Lermond
Mr. Lermond is a Registered Nurse at Bar Ray which is an international manufacturer that produces and manufactures x-ray aprons and innovative personal radiation protection products. He designs and develops medical lead products. Previously, he served over 10 years with Hospice and end-of-life organizations. Mr. Lermond also taught regarding end-of-life and pain management. He is affiliated with the H.P.N.A. and C.H.P.N. He was born in Washington, DC and obtained a B.S.N. from Stevenson University in Baltimore in 2000. He holds Certifications in H.P.N.A. and is a Certified Educator with C.H.P.N. Mr. Lermond served in the U.S. Navy as a Corpsman during the Gulf War. He worked in multiple clinical settings including emergency rooms, oncology and end of life. During his tenure, he cared for patients who were at the end of their lives, supporting them and their families throughout the process. Mr. Lermond has been the clinical educator within the organizations he has worked for, teaching orientation classes along with continuing education to staff throughout the year. He conducts classes/lectures within the community on a large range of topics, mainly focusing on end-of-life or pain management issues. He has also obtained the attunements for Second Degree Reiki in the Usui Method of Natural Healing. In his spare time he enjoys hiking, rock climbing, sailing and family activities.
About Strathmore's Who's Who Worldwide
Strathmore's Who's Who Worldwide highlights the professional lives of individuals from every significant field or industry including business, medicine, law, education, art, government and entertainment. Strathmore's Who's Who Worldwide is both an online and hard cover publication where we provide our members' current and pertinent business information. It is also a biographical information source for thousands of researchers, journalists, librarians and executive search firms throughout the world. Our goal is to ensure that our members receive all of the networking, exposure and recognition capabilities to potentially increase their business.