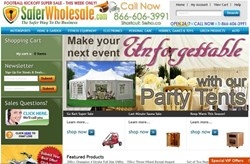 Joliet, IL, May 15, 2015 --(
PR.com
)-- With Summer approaching fast, many shoppers have their eyes open for great sports items & the latest offers. Safer Wholesale, the leaders in affordable home products, recently published the announcement that their catalog now features more golf carts, golf cart customization and options with more electric bikes than ever.
There are some great sports items that a shopper can be rewarded with, if they spend the time finding the right resource to order from. High on the list of these are popular summer choices like golf carts and electric bikes, where savings can be quite significant. One online store that stands out in this area is Safer Wholesale, a leader in providing essential home equipment, who recently announced their new summer line of discounted products now in stock, including the latest in golf cart, golf cart customizations, and electric bikes. Shoppers have responded with enthusiasm.
"We're proud of our reputation of always going the extra mile for our customers and making sure they have the products they are looking for at wholesale prices," commented a spokesperson from Safer Wholesale. "Our summer additions are all in this spirit, and delivered with the same 'customer first' attitude that fuels everything our company does."
According to Safer Wholesale, they do over a million in sales monthly and the number just continues to rise. In addition to Golf Carts and Electric Bikes, the store is also very popular for their selection of Home and Garden; Fitness Equipment; Personal Care; and Hobbies, Games and Toys.
The Safer Wholesale website often features special Holiday Sales, coupons and discounts, along with informative blog posts, giving very good reasons for shoppers to stop by and visit often.
Shopper feedback continues to be resoundingly positive.
Patrick Mccoy, recently said about his shopping experience, "I was skeptical about ordering something so far from home, but with the help of the sales man's recommendation, I got my go kart picked out, and put it together in about a hour. It had a burnt fuse, but with the help of great tech support we tracked it down in no time. I'm very pleased with it. Thank you Alex!"
For more information be sure to visit http://www.saferwholesale.com.