Warady & Davis LLP, Chicago CPAs & Consultants, Again Named a Best Place to Work in Illinois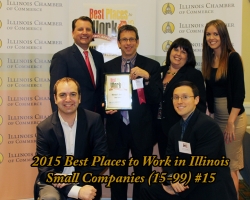 Deerfield, IL, May 14, 2015 --(
PR.com
)-- Warady & Davis LLP, a top 20 Chicago area CPA & Consulting firm, has been recognized for the second year in a row by the Daily Herald Business Ledger in their Best Places to Work in Illinois competition. Among the 31 small companies ranked (15-99 employees), Warady & Davis LLP placed 15th during a recent awards ceremony.
According to Best Companies Group, organizations making the list had employee engagement scores of 92%+ compared to a national average of just 41%. "We are particularly proud of this achievement and we thank every firm member for their important contributions and confidence in the W&D family," said Richard Franklin, CPA, Co-Managing Partner of W&D.
Firm members cited a variety of reasons for job satisfaction including feeling a part of a team, the W&D family, that their contributions are appreciated, valued and that the work they do makes a difference. Comprehensive professional training through W&D University, fun activities and teamwork competitions were also mentioned.
W&D offers a wide range of comprehensive benefits and competitive salaries, professional development training, very generous paid-time-off, flexible scheduling and telecommuting, family friendly policies and much more. Staff actively participate in firm management and initiatives through a variety of committees including social, health & wellness, training & development, leadership and business development, amongst others.
The firm participates in the Illinois CPA Society's "Day of Service" and over the last year has volunteered or raised money for a variety of organizations including The Boys & Girls Club of Lake County, the Northern Illinois Food Bank, West Deerfield Township Food Pantry, The ARC and The Glen Ellyn Food Pantry.
"As a firm, we commit to continue to build on our employee engagement initiatives. Together we will continue to make W&D a 'Best Place to Work in Illinois,'" concludes Franklin.
To find out more about Warady & Davis LLP - visit
www.waradydavis.com
.
About Best Places to Work in Illinois
2015 is the 10th year of the Best Places to Work in Illinois' statewide survey and awards program. The number of companies participating and honored has grown each year.
Companies from all over Illinois participated in the statewide survey and awards program that was designed to identify, recognize and honor the best places of employment in Illinois, benefiting the state's economy, its workforce and businesses. The 2015 Best Places to Work in Illinois list is comprised of 31 companies in the small employer size (15-99 U.S. employees), 26 companies in the medium-sized list (100-499 U.S. employees), and 17 companies in the large category (over 500 U.S. employees).
Best Places to Work in Illinois is promoted by The Daily Herald Business Ledger in partnership with the Human Resources Management Association of Chicago (HRMAC), the Illinois Chamber of Commerce, the Workforce Boards of Metropolitan Chicago, MRA-The Management Association, the Greater Oak Brook Chamber of Commerce, and Best Companies Group.
Contact
Warady & Davis LLP
Leslie Flinn, Director of Marketing
847-267-9600
www.waradydavis.com

Contact