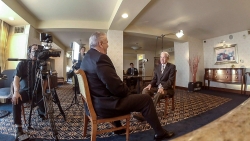 Phoenix, AZ, May 18, 2015 --(
PR.com
)-- Empire of Lies: The Ron Paul Documentary project is under way with the launch of a Kickstarter crowd-funding campaign.
The documentary on former Texas Congressman and Republican presidential candidate Ron Paul's career and experiences championing a libertarian "freedom philosophy," has the congressman's blessing.
"Ron Paul has been approached many times to participate in a major documentary, but has not agreed to do so until now," said New York Times bestselling author and national radio commentator Charles Goyette, who is producing the film.
"We are deeply honored with the access and personal cooperation he is giving us in this timely project," said Goyette.
"I feel flattered to be an important part of this," said Paul. "I think some big things are happening. Libertarianism and freedom – as bad as things look on the surface, I believe the rumblings are just wonderful there and in my relationship with young people."
According to Goyette, it was absolutely essential to fund this film at the grassroots level. "I'm not interested in making a weak or watered-down version of the story, the kind of thing that can happen with corporate funding," he said. "The integrity of the project demands that it be independent."
Goyette helped raise contributions in the 2008 and 2012 Ron Paul Presidential Money Bomb fundraisers that set new records for political fundraising.
"We've already received great expressions of support from the lovers of liberty, Ron Paul fans and the Kickstarter community. Grassroots supporters want to be sure the project remains independent, too," Goyette said.
Contributions to the crowd funding project can be made through June 2 at kickstarter.com/projects/empireoflies/empire-of-lies.
Goyette is the New York Times bestselling author of The Dollar Meltdown. His latest book is Red and Blue and Broke All Over – Restoring America's Free Economy. An award-winning radio personality, most recently he was heard in 2014 hosting the nationally syndicated Laura Ingraham Show. He has often been called on to share his views with national television audiences on Fox News, CNN, MSNBC, PBS, CNBC and Fox Business Channel.
In 2013 and 2014, Goyette arranged the national syndication of twice-daily radio commentaries by Ron Paul, which he also produced and co-hosted. Ron Paul's America was broadcast on 125 radio stations across the nation.
Goyette also joined with Paul for the sponsored program Ron Paul and Charles Goyette – The Weekly Podcast, long-form conversations about news and political philosophy. The Weekly Podcast is available on iTunes.
Long time Goyette production partner, Ken Liljegren will serve as executive producer of Empire of Lies: The Ron Paul Documentary. Liljegren is president and founder of Spectrum Video & Film, Ltd., in Phoenix.
Together Goyette and Liljegren have formed Ron Paul Documentary, LLC. To conduct the business of the project they have pledged to donate a portion of the profits after the documentary's release in 2016 to the Ron Paul Institute for Peace and Prosperity, one of the former congressman's educational and policy initiatives.
Empire of Lies: The Ron Paul Documentary is set to be released in the first half of 2016 as public interest in politics is growing with the presidential primaries and campaigns.
Empire of Lies Kickstarter page:
kickstarter.com/projects/empireoflies/empire-of-lies
Empire of Lies YouTube Channel:
youtube.com/channel/UC5xPl5GmcRBRrYfUBE1Cv5w
Empire of Lies Facebook:
facebook.com/RonPaulDocumentary
Twitter:
@RonPaulDocu