ISPreview UK Study Finds Houses with Slow Broadband Attract Lower Prices
The latest ISPreview.co.uk study of 2,119 Internet connected consumers in the United Kingdom has found that most people (85%) demand a minimum broadband speed of 25-50Mbps when buying a new house and 72% would reject an otherwise perfect house if its broadband wasn't up to scratch, with 23% saying they'd negotiate a lower price.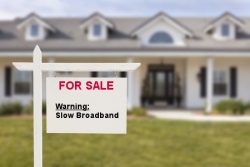 London, United Kingdom, May 19, 2015 --(
PR.com
)-- How important is broadband connectivity to the decision of buying a new home? A new web-based April survey of 2,119 ISPreview.co.uk readers, which is a popular Internet access focused technology and consumer information website, has revealed that nearly three quarters (72%) of respondents would reject an otherwise ideal house if its broadband speeds were too slow; meanwhile 23% said they'd simply negotiate a lower price and only 5% weren't bothered about broadband performance.
The study also asked how much respondents would be willing to pay for a house that came with "superfast broadband", which in the United Kingdom tends to be defined by the Government as download speeds of greater than 24Mbps (Megabits per second). Interestingly 66.3% said they "wouldn't pay extra" and 7.2% weren't sure, although just over a quarter were willing to pay extra and of those 5.8% said they would pay as much as +2-3% more than the original asking price, with 4.7% also being willing to pay +4% extra.
According to Halifax, the average UK house price is currently £192,970 and 2% to 3% of that would add an extra £3,859.40 to £5,789.10 respectively to the total cost.
How much more would you pay, above the asking price, for a house with superfast broadband?
I wouldn't pay extra - 66.3%
I'm not sure - 7.2%
0.5% More - 7.1%
1% More - 6.6%
2-3% More - 5.8%
More than 4% - 4.7%
3-4% More - 1.9%
The survey also asked respondents to identify the minimum broadband speed that they could "tolerate" when buying a new house, with 50Mbps being the largest option (i.e. 50Mbps should be enough to cope with virtually all tasks, even a couple of live 4K video streams, for the short to medium term future). The results were as follows (note: 0.7% didn't know what speed to pick):
50Mbps - 67.1%
25Mbps - 17.9%
10Mbps - 12.2%
2-5Mbps - 1.8%
At this point it's interesting to note that only 1.8% picked a speed of 2-5Mbps, which is roughly what the Government has committed to as the minimum Internet download speed that should be made available to all. By comparison the vast majority now appear to feel that speeds of 50Mbps are what should be expected as a minimum for a new house purchase, which might disadvantage those that are still waiting for an upgrade in rural areas.
"For most people the purchase of a new home is the single biggest investment that they will ever make," said ISPreview.co.uk's Founder, Mark Jackson. "As such it's interesting to find that the vast majority of respondents to our survey would only tolerate, as a minimum, a broadband speed of above 25Mbps. The Government are making such speeds available to 95% of the UK by 2017, although remote rural areas will be the last to benefit and some may even suffer a loss of value if they're found to deliver slower connectivity."
"But most of the currently available evidence for the impact of broadband performance on house prices is anecdotal, although a recent study by the London School of Economics claimed that property prices increased by an average of around 3% when the available broadband speeds doubled. Never the less, the decision about how much you pay for a house will always come down to the simple matter of personal choice, although for most people access to superfast broadband is clearly now a key part of that equation," added Jackson.
Contact
ISPreview.co.uk
Mark Jackson
440163278234
www.ispreview.co.uk

Contact