CEO Positivity Waning and Private Sector Employment on the Rise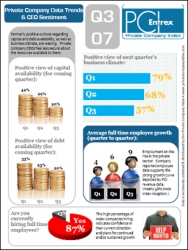 Chicago, IL, November 27, 2007 --(
PR.com
)-- Based on a poll conducted by the Private Company Index (PCI) at the close of Q3, CEOs are feeling increasingly negative about the prospects for capital and debt availability in Q4 2007. At the same time these companies report the average number of full time employees to be at the highest level for this calendar year – and still growing. 87% of portfolio companies report they are currently seeking additional full time hires.
When polled for their opinion on the Q4 business climate for private companies, only 57% of responding CEOs had a positive view. Though this number may seem healthy on its own, it has been declining throughout 2007. Meaning, PCI company leaders are exhibiting an all-time low perspective towards coming business conditions.
The disparity between the employment statistics and CEO sentiment data leaves one to believe that, while private companies are becoming realistic about the financial resources available to them, they feel confident about growing or sustaining their current revenue numbers.
Stephen H. Watkins, CEO of PCI sponsoring organization Entrex, adds, "It would be easy to presume that our recent data about the availability of financing are an indirect result of the sub-prime crisis' affect on banking institutions. However, these sentiment numbers have been dropping since the beginning of 2007. It's the position of a realist, a CEO who is seeing the financial tide turn after two years where myriad shapes of capital and debt were readily offered to private companies in all positions."
Mr. Watkins adds, "Employment trends clearly reflect growth plans. The question is….how do these companies plan to fund it? Are they all in a position to self fund? Perhaps a large number of them are based on the immense revenue growth the Private Company Index reflects for this year. Officially, we'll have to describe their funding plans next quarter when we have that data available."
Data snapshots and a complete report of private company CEO thoughts related to Q3 2007, and forward looking Q4 impressions, are available at www.privatecompanyindex.com.
###
Contact
Entrex/Private Company Index
Erika Conefry
877-436-8739
www.privatecompanyindex.com

Contact
Multimedia
Infographics depicting views and data trends revealed by the Private Company Index and a survey of portfolio company CEOs.