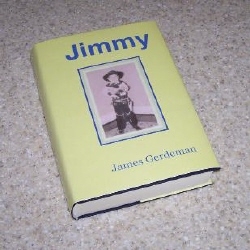 Coral Springs, FL, November 27, 2007 --(
PR.com
)-- If you remember Howdy Doody, Lassie, and Leave it to Beaver, you are a child of the 50's, as is author James Gerdeman. His new book, Jimmy, sweeps the reader back in time to days of sweet innocence, of a childhood lived mostly for fun, of long summer days spent fishing, eating ice cream, playing ball, and running errands for Mom, who was always home, cooking and cleaning for her family.
The 50's were a time when most people married young and settled close to home, and so were part of big, extended families. Jimmy details family gatherings, most with lots of homemade German food, time spent with cousins and grandparents, but at the heart of the story are four brothers growing up together in small town Ohio. Your mind envisions little boys with striped tee shirts and cowlicks, with "gee whiz" the strongest word to come from their gap-teethed mouths.
Jim Gerdeman has an incredible memory and he colorfully retells countless events of his childhood. One of the best is the tale of the go-kart created in their garage, made of spare lawnmower parts, whose wheels turned the opposite way when you turned the steering wheel. Jim's father was able to fix the design flaw and the boys were finally able to take thrilling rides in their cart. Design flaws aside, the little boys who created this cart all grew up to be engineers.
One of the most touching stories is that of the boys playing pick up ball games and deciding to form teams. The town folks got behind them, sold popcorn and provided a speaker system, and a little boy with one leg shorter than the other was selected to be the announcer. All stood for the National Anthem and saluted a flagless flagpole. Other familiar themes are an uncle's winning of a ribbon for his Chester White pig at the county fair; raking, jumping in, and then burning leaves and enjoying that smoky smell; sledding in the winter and catching turtles and growing a garden in the summer. The love of penny candy and the methods used to earn money to buy it. The family's first television and its limited programming. Summer evenings when the family would go for a drive and then stop for ice cream cones. The importance of the church in all their lives is woven throughout the book.
Jimmy includes the poignant story of Mark, the fifth Gerdeman brother, born with RH factor and living only to age nine. Jim describes his mother's loving care of Mark and the special place this young child held in their family.
Those who came of age during the 50's will find themselves right at home in Jimmy. Those who just want to know what it was like back then are also in for a real treat. This is the real thing!
Georgia Hart is a Crime Victim Advocate who finds release from the stress of her work in reading. She has a degree in Criminal Justice and Communications from Ohio Dominican University, and, like Gerdeman, is a child of the 50's, raised in a small town in Ohio.
Link to Jimmy:
http://www.JDGerdeman.com
About Author
James Gerdeman graduated from Kalida High School and earned an Industrial Engineering degree from the University of Dayton. His first book, Radio Frequency Identification Application 2000, was published by Research Triangle Associates. More information at www.JDGerdeman.com.
Media Contact: James Gerdeman, jdgerdeman@aol.com, US +1 7862568902 Call .
###