MASA Assist Gives Health and Injury Prevention Tips in Honor of National Trauma Awareness Month
MASA Assist (Medical Air Services Association), a provider of life-saving medical transportation services, recognizes National Trauma Awareness Month by Giving Injury Prevention Tips.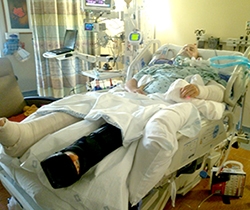 Southlake, TX, May 20, 2015 --(
PR.com
)-- MASA Assist (Medical Air Services Association), a provider of life-saving medical transportation services, recognizes National Trauma Awareness Month (NTAM), an observance established in 1988 by President Ronald Reagan. Each year, NTAM makes people aware of the growing number of traumatic injuries and fatalities that occur throughout the United States. In fact, a recent report from the National Trauma Institute (NTI), states that more than 190,000 Americans die from traumatic injuries each year, making trauma the #3 cause of death in the U.S.
"Our mission is saving lives," said Tim Green, president of MASA Assist. "And, we are committed to promoting health safety and preventing medical emergencies. Accidents and illnesses can strike anytime and anywhere -- often with little or no warning. With MASA Assist, we have specially trained medical staff and emergency transport equipment on standby 24/7 in case a member or someone in the family has a critical illness or injury. MASA Assist's network extends around the globe, and should we be needed, one phone call dispatches help within minutes."
While a MASA Assist membership provides medical transport services and other benefits in cases of critical illness and injury, the reality is that no one wants to make a trip to the hospital. National Trauma Awareness Month is a good time to provide information that can help avoid accidents and health maladies. To stay safe and healthy, consider the following prevention tips:
· Practice preventive medicine – Get an annual physical, take medications and supplements as directed, and make sure to follow through on any recommended vaccines and health screenings. A study conducted by The National Commission on Prevention Priorities stated, "If 90 percent of the population had access to tobacco cessation services, alcohol abuse screening, daily aspirin intake — if at risk for certain health conditions — and colorectal cancer screening, each of those four interventions alone would result in more than 100,000 years of life saved."
· Develop Healthy Habits – Eat a balanced diet, and avoid fast foods. Count calories to maintain a healthy weight, and stop indulging in nicotine and alcohol and other unhealthy substances. Also, exercise in moderation. Walking and other low impact exercises such as Tai Chi are safe for almost everyone. And, according to the Centers for Disease Control and Prevention (CDC), regular exercise helps cut the number of falls in half for older adults.
· Avoid Mind-Altering Substances – Always exercise caution when using alcohol, prescription drugs or other substances that could impair the ability to function a full capacity. Accidents of all kinds increase dramatically when someone becomes drowsy or intoxicated after ingesting too many drinks or taking too much medication or other substances. In a recent study conducted by the National Institute on Drug Abuse, 18 percent of fatally injured drivers tested for at least one illicit, prescription, or over-the-counter drug. To avoid injuries, it is best to either stay at home, or let someone else do the driving whenever someone is "under the influence."
· Practice Safe Driving – Car crashes can be deadly. The Statistic Brain Research Institute reports that an average of 80 Americans die every day in automobile accidents. Wearing seatbelts saved more than 255,000 lives between 1975 and 2008 estimates the CDC, so be sure to buckle up. In addition, pay attention to the road and to the actions of other drivers. Drive defensively. Follow posted speed limits and watch out for traffic lights, stop signs and other driver safety alerts. Most importantly, avoid distractions and focus on the road. Don't play with the radio, use the cell phone, text, read a map, or become distracted.
· Shun Unsafe Situations -- Stay away from people and places that aren't safe. It is a sad fact that crime and violence impact many. In 2010, the FBI released statics indicating that the average American has a 1 in 250 chance of being involved in a violent crime such as robbery, assault, rape or worse – each year. To be safe, always keep family and friends advised of any plans, and avoid situations and behaviors that can be risky – especially when traveling. There is safety in numbers, so stay with groups of people, and avoid questionable surroundings.
"During 2013, Americans made more than 43.0 million visits to hospital emergency rooms. Odds are that you or someone in your family will need emergency medical care more than once during your lifetime, and when you do, the cost is high," Green said. "A MASA Assist membership saves money, and gives members peace of mind knowing that they, and their family members are protected."
"Each year, the company works to make the public aware of health-related issues. MASA Assist holds lunch and learn programs in senior centers, and sponsors a national golf tournament to make the public aware of the need to prepare for health-related crises. And, while we want all of our members to remain healthy, and happy, during National Trauma Awareness Month, MASA Assist wants to remind everyone that should a serious illness or injury strike you or one of your loved ones, help is a phone call away," Green added.
About MASA Assist:
Founded in 1974, Medical Air Services Association (MASA Assist) is strategically based in Southlake, Texas, just minutes from the Dallas / Fort Worth International Airport. An international organization, MASA Assist provides lifesaving emergency air and ground transportation for more than one million members while at home, on the job or traveling the world. Call 1-800-423-3226 or visit
www.MasaAssist.com
for more information.
Contact
MASA Assist
Lauren Cleveland
1-800-295-1220
www.masaassist.com
Tim Green 817-430-4655

Contact