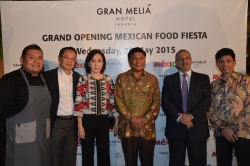 Jakarta, Indonesia, May 23, 2015 --(
PR.com
)-- Gran Melia Jakarta shares the joy of Mexican Food Fiesta, in collaboration with Embassy of Mexico in Indonesia, by bringing the Mexican Chef Julio Ortega who will present unique culinary tradition of Mexico to the International Buffet restaurant, Cafe Gran Via.
Mexican Chef Julio Ortega graduated from the top gastronomy college in Mexico City in 1997. His early international debut was in Switzerland as assistant director (1999) and in 2000 in Erfurt Germany at the Culinary Olympics. Later in 2002 he traveled to Malaga, Spain where he served as the Executive Chef at Hotel "Cortijo la Reina." He is the founder of TallerJO a culinary consulting group, owner of JO Catering and also a culinary instructor specialized in "Molecular Kitchen." His works in Mexico including the Hotel Real del Bosque Golf Club, Hidalgo; Executive Chef at Restaurant Carolo & Euromarket, Ciudad de México, Distrito Federal; Rodavento Hotel Boutique (Valle de Bravo) Mexico as an Executive Chef and many more.
On Wednesday, 20 May 2015 the Grand Opening Event of Mexican Food Fiesta was held by Gran Melia Jakarta, attended by Ambassadors from several countries, corporate client decision makers, business partners featuring wine pairing Mexican set menu dinner and Mexican art performance. To mark the opening, a toast on stage done by General Manager Gran Melia Jakarta Gilberto Mayen, Ambassador of Mexico in Indonesia H.E. Federico Salas, Owner of Gran Melia Jakarta Bapak Johannes Suriadjaja, Mexican Chef Julio Ortega and Executive Chef Gran Melia Jakarta, Gerald Prinz.
Ratna Sjamsiar Idris - Director of Marketing & Communications Gran Melia Jakarta said, "This Grand Opening Event of Mexican Food Fiesta is attended by more than 150 guests with sitdown dinner arrangement concept, held at the Lobby Lounge located at the heart of the hotel, featuring Mexican Art performances by Victorhugo Hidalgo, a student from Institute Seni Surakarta who is currently taking a Master Degree on Art Creation. He has studied western music in Universidad Autonoma de Queretaroin Mexico, Universidad de Buenos Aires in Argentina."
As a Mexican student who learn about traditional Javanese culture, Victorhugo Hidalgo has put his interest on composing art performance which create a mixture of traditional and contemporary gamelan combined to Mexican & Indonesian art performances. Together with other expat students from Institut Seni Surakarta and having a collaboration with Indonesian dancers, Victor invents his art imaginations into some projects of composing the genres of new clasical traditional music from Mexico and ethnic Indonesian dance to enliven the Grand Opening of Mexican Food Fiesta at Gran Melia Jakarta.
"The promotion of Mexican Food Fiesta will take place at 24-hours restaurant located at the Lobby Level, Cafe Gran Via, from 21 May until 2 June 2015. Guests can enjoy a range of quintessential Mexican food specially prepared by Mexican Chef Julio Ortega. With working experience in many fine restaurants mostly in Latin American countries make each of Chef Julio's dishes is prepared with unique and incomparable color and taste as they are created by the emotions of the chef's creativity for those who like something innovative and enjoyable," explained by Ratna Sjamsiar Idris - Director of Marketing & Communications Gran Melia Jakarta.
He participated in the television program Baja Route (a reality show multimedia) as co-host for the food and cooking section. He also contributes in different print media, national and international media, as well as being the image of the Duramax to Torrey Neon knife in Mexico. In addition, he is not only a practitioner but he also been involved in academia since 2006 where he was appointed at Gastronomic Congress as a Lecturer by Universidad de Oriente, Poza Rica, Veracruz. In 2009 as a Lecturer at Ensenada Gastronomica of Ensenada, coastal city in Mexico, the third-largest in Baja California. In 2011 as a Lecturer at Expo Gourmet "Leading Food" of Tijuana, which is adjacent to the U.S. border, also called "the corner of Mexico." In 2013 he is also participated as a Lecturer of FITA, in Mexico Distrito Federal (Feria Internacional de Turismo de las Americas) a yearly tourism trade show which gathers travel industry professionals from around the world with the aim to boost the promotion and commercialization of tourism products and destinations. In 2014, Chef Julio Ortega became a Lecturer at Winter Festival, Los Mochis Sinaloa.
Guests can satisfy their appetite with a range of delectable salsa fresca or salads and vegetables for appetizer. A range of appetizers are available for guests to start their culinary adventure, ranging from Tortas (traditional Mexican sandwich ), Chiles Toreados (avocado salad), Caldo de Holla (Beef Soup), Tlalpeno Soup (Chicken & Chipotle Pepper Soup) to Caldo de Mariscos (seafood soup), Ceviche de Nopales (Cactus Salad).
Selections of Platos or main dishes will take the guests even further on their exploration of Mexican culinary, from Aporriadillo (Shredded Dry Beef and Eggs with Green Tomatoes Sauce), Albondigas (meat balls with Chipotle pepper cream cauce), Asado Norteno De Res (Roast Beef with Chili Sauce), Achiote (Mexican Spiced Fish), Cochinita (Veal with Mexican Spices), Fish Talla Style (fish marinated with dry Pepper Adobo) to the traditional Poblano Rice (Mexican pepper rice).
To bring a sweet ending to the Mexican-style dining experience, guests can savour the Postres or desserts and delight in the famous Mexican desserts renowned by the name of Bionico (fruit salad), made of a mixture consisting of sweet milk sauce, granola and several fruits such as banana, apple, mango,etc. Another range of dessert selections are available at Cafe Gran Via dessert station, where guests can indulge in Bunuelos (wheat-yeast based dough), Tres Leches Cake (three milk cake), Arros con Leche (rice pudding), and Churros (traditional Mexican fried dough pastry).
Mexican Food Fiesta is available on the international buffet for lunch and dinner at Cafe Gran Via starting from Rp. 285,000++ per person. The restaurant has two semi private dining rooms with 300 seats capacity, located at the Lobby Level.
Stay connected:
Like us on Facebook: facebook.com/granmeliajkt
Follow us on Twitter: @granmelia_jkt
For press contact:
Ratna Sjamsiar Idris
Director of Marketing & Communications
ratna.sjamsiar@granmeliajakarta.com
Ph. +62 5268080 Ext. 2215
Fx. +62 5268181