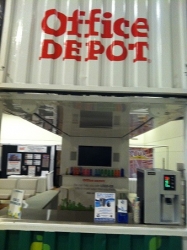 Davie, FL, May 27, 2015 --(
PR.com
)-- Atmospheric Water Solutions Inc., (AWS) the patent holder and global leader in Atmospheric Water Generators (AWG) is joining presenting sponsor Office Depot and other visionary professionals at this year's Sustainable Purchasing Leadership Council 2015 Summit in Seattle, Washington May 26-28.
Along with Office Depots commitment for the opportunity to meet and exchange ideas with professionals from a broad variety of institutional purchasing categories and practices, and enhancing community building, this summit has also developed into highlighting products and services that can improve our environment. Atmospheric Water Solutions inc., will showcase their environmental technology in producing pure, clean water from the surrounding air.
Howard Ullman President and CEO of the company expressed his concern for the expeditious growing fear for water restrictions. "We have been supplying customers all over the world from drought ridden towns, to contaminated water supply areas, including and especially natural disaster locations with our AWG generators and technology." Ullman's company has installed water from air generators across the Mideast, Africa and India.
The patented technology extracts the humidity in the surrounding air whether indoors or outdoors. It is condensed, and then passes through a four (4) stage patented filtration system. "Our Aquaboy home/office countertop carried by Office Depot online can produce 2 to 5 gallons of pure water per day eliminating the need for traditional water dispensing devices," said Ullman.
Other water from air generators from Atmospheric Water Solutions inc., include larger commercial generators that can produce 125, 300, up to 5,000 gallons per day of pure, safe drinking water.
This year's SPLC' Summit will provide Atmospheric Water Solutions Inc., the opportunity to be a part of office Depot's concept of the break room of the future.
That solution is Atmospheric Water Solutions.
For more info about AWS visit
www.atmosphericwatersolutions.com
About Atmospheric Water Solutions, Inc.- One of the original patent holders of atmospheric generation technology developed in the late 1990s, produces systems that make pure water from air through their patented process of condensation and then processing that water through a multiple filtration system. The systems come in all sizes and are scalable by design or linking units into a series. These machines serve homes and offices, oil and gas exploration, agriculture, mining, military, hospitals, schools, municipalities, and humanitarian efforts.