Unimarket Recognized as a "Leader in Procure-to-Pay Solutions" for Higher Education
Spend Matters identifies Unimarket as one of the the leaders in procure-to-pay solutions for higher education in North America, citing "ease of integration" as a core competitive advantage.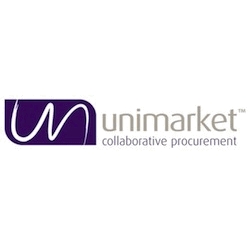 Annapolis, MD, May 27, 2015 --(
PR.com
)-- Spend Matters, the largest and most influential blog and social media site in the procurement and supply chain sector, recently published a two-part article which identified Unimarket as "one of the the leaders in P2P solutions for higher education in North America."
"Not all procure-to-pay (P2P) providers are active in the higher education space, even though business needs and practices aren't that different from the 'regular' commercial sector. As competition increases, inevitably we will see new entrants coming into this vertical, and interestingly in case of this article, from across the globe. Although originally out of New Zealand, Unimarket has established itself as one of the leaders in P2P solutions for higher education in North America."
- Thomas Kase, VP of Research at Spend Matters
Spend Matters featured Unimarket as part of their "Premium Research" available on "Spend Matters PRO", which "sets the standard for the analyst world in procurement."
"What stands out, as a fairly unique competitive advantage for Unimarket is the development of its own middleware... This direct integration approach often reduces the total project cost (implementation time and money) for the clients... The company itself underplays this card and says it is far more proud to be 'consistently rated by end users in competitive bids as better on ease-of-use.' Sure, this is nice, but in Spend Matters opinion, there are many tools with good ease-of-use, far fewer providers with strong integration expertise in-house."
- Thomas Kase, VP of Research at Spend Matters
Unimarket provides easy-to-use cloud-hosted spend management software, including e-invoicing, e-procurement, spend visualization, contract management and more.
"At Unimarket making procurement easy is at our core – whether that is through ease-of-use for the end-user, our flexible integration options, our agile development platform, our completely scalable business model or our dedicated account management focus. All of which makes it easy for Higher Education institutions to do business with us. It's great to have independent endorsement from a recognized expert like Spend Matters."
- Peter Kane, CEO at Unimarket
To read the full review, visit SpendMatters.com:
Part 1 - Higher Education – Still A Niche "Procure-To-Pay" Area
Part 2 - Unimarket Moves Beyond Higher Education in the P2P Sector
To see the future of cloud-based Spend Management software in action, Unimarket will be hosting their 5th Annual User Conference on October 19-21 in in Chicago, IL.
For more information about Unimarket, visit http://www.unimarket.com or to schedule a demonstration, email: contactus@unimarket.com or phone toll-free: 888-868-5929 ext. 5.
About Unimarket
Unimarket was formed in 2005 to deliver collaborative electronic procurement solutions for businesses using the latest technology to enable them to easily connect and transact with their suppliers in a single portal to save costs, improve efficiency, and reduce paperwork. The solution uses a multi-tenant architecture and is provided on a Software-as-a-Service (SaaS) business model.
The hallmarks of Unimarket's solution are ease-of-use and an open-market philosophy of unlimited users and unlimited supplier connections delivered in a cost-effective manner. Having great technology is just the enabler so Unimarket takes a unique partnership approach with all their customers to ensure they get the most from their product on an on-going basis, including proactive assistance with supplier enablement, organizational rollout, best practice process improvements, and more.
For more information visit: http://www.unimarket.com/
Contact
Unimarket North America
Daniel Perry
888-868-5929 ext. 5
http://www.unimarket.com

Contact