Cloudaccess Named 2015 Red Herring Top 100 North America Award Finalist
Security-as-a-service leader short-listed for the prestigious Red Herring award.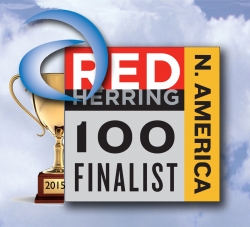 Los Angeles, CA, May 27, 2015 --(
PR.com
)-- Recognizing that the next generation of enterprise security must process intelligence from a variety of dissociate sources to allow for predictive analysis, centralized control and real time corrective action, Red Herring selected security-as-a-service leader CloudAccess as a finalist in its Top 100 North America Award.
CloudAccess' REACT™ (Realtime Event and Access Correlation Technology) offering served as the centerpiece for the award consideration. REACT™ is a patent-pending integrated technology that applies a unique and powerful process engine to correlate identities, access rights, user & application activities, audit logs, geo-location, and network security events to prevent and control suspect behavior based on the discovered patterns.
"Despite increased spending on security solutions, issues continue to escalate every day," said CloudAccess CEO Kevin Nikkhoo. "The acknowledgement from Red Herring validates that we're on the right track to allow companies to work smarter with less investment, but more importantly provide the necessary and expanded visibility to root out anomalous activity that might otherwise go unnoticed and take real time action against various threats."
According to CloudAccess, REACT™ leverages the cooperative ability of legacy, cloud and existing security solutions to provide a unified and modular blend of analysis and action to better qualify, verify, decide and act on each and any incident.
"Our success is a mixture of a phenomenal innovative offering and our fantastic, forward-thinking team," Nikkhoo said. "We are over the moon that Red Herring has recognized our efforts and accomplishments."
Red Herring has been selecting the most exciting and promising start-ups and "scale ups" since 1995. Finalists are still evaluated individually from a large pool of hundreds of candidates based across North America. Twenty major criteria underlie the scoring and process. They include, among others: the candidate company's addressable market size, its IP and patents, its financing, the proof of concept, trailing revenues and management's expertise. Each company goes through an individual interview after filling out a thorough submission, complemented by a due diligence process. The list of finalists often includes the best performing and prominent companies of that year.
This unique assessment of potential is supplemented by a review of the company's actual track record and standing, which allows Red Herring to see past the "buzz" and make the list a valuable instrument for discovering and advocating the greatest business opportunities in the industry. During the several months leading up to the announcement, hundreds of companies in the fields of security, cloud, software, hardware, big data, life sciences, mobile and others completed their submissions to qualify for the award.
2015 will be remembered as a special vintage. "The short-list confirms the excellent foresight and strong innovations created by entrepreneurs in North America. By all measures, the remarkable group of companies comprising the Top 100 Short-list underlines the region's constant drive to innovate," said Alex Vieux, publisher and CEO of Red Herring.
The short-listed companies qualify to present their winning technology at the Red Herring North America. The Top 100 winners will be announced during a special awards ceremony the evening of June 3.
Contact
CloudAccess
Scott Davis
877-550-2568
www.cloudaccess.com
Blog-Thoughts from the Cloud: www.cloudaccess.com/blog/

Contact