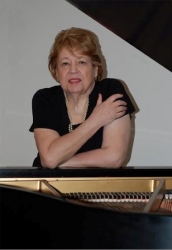 New York, NY, June 03, 2015 --(
PR.com
)-- Dr. Ana Maria Trenchi Bottazzi of New York, New York has been included in the Strathmore's Who's Who Worldwide Edition for her outstanding contributions and achievements in the field of music education.
About Dr. Ana Maria Trenchi Bottazzi
Dr. Trenchi Bottazzi has over 45 years experience in the music education field. She is the President of the Bottazzi School of Music which is an international private music school. A concert pianist and former child prodigy, she was originally taught, beginning at age 2, by her mother, the well-known Argentine Pedagogue, Ana Sieiro de Trenchi. Dr. Trenchi Bottazzi studied with famed teachers Nadia Boulanger, Yves Nat, and especially Germaine Pinault and also studied with Argentina's most famous composer, Alberto Ginastera and later with Roger Sessions and Martin Canin. Many of her performances include 17 solo recitals at Carnegie Hall. Together with her husband Bruno, she founded the German Pinault School of Music in Manhasset, New York and has been its director for the past 37 years. Dr. Trenchi Bottazzi established the International Piano Tape Competition. She was awarded the Premier Prix from the Conservatoire National de Musique in Paris and Outstanding Women of the Year from the All Nations Women's League in 1982. She received The United Nation's Outstanding People from Central and South America Award in 1984 and The Outstanding Hispanic Women Achievers Award was presented to her by New York Governor Mario Cuomo in 1993. Dr. Trenchi Bottazzi performed at the White House for President and Mrs. Bush and gave a recital in 1993 at the Vatican for Pope John Paul II. She was recognized in Times Square, New York City on the Reuter's billboard on Friday, May 8, 2015. She wrote her autobiography, "To Live Again", which was published in five languages by Dodd, Mead and Company. Dr. Trenchi Bottazzi has performed and given master classes and lectures all over the world- in 34 major cities in North America, South America, Europe, Africa and Asia. She has also completed 40+ recordings of piano pieces. She is affiliated with Piano Teachers of New York. Dr. Trenchi Bottazzi was born on May 29 in Buenos Aires, Argentina and obtained a Ph.D. in Music and Composition from the University of Buenos Aires, a D.M.A. from the Julliard School and a M.M. in Piano from SUNY Stony Brook. In her spare time she enjoys computers and family activities. For further information, contact
www.bottazziinternationalmusicsociety.com
.
About Strathmore's Who's Who Worldwide
Strathmore's Who's Who Worldwide highlights the professional lives of individuals from every significant field or industry including business, medicine, law, education, art, government and entertainment. Strathmore's Who's Who Worldwide is both an online and hard cover publication where we provide our members' current and pertinent business information. It is also a biographical information source for thousands of researchers, journalists, librarians and executive search firms throughout the world. Our goal is to ensure that our members receive all of the networking, exposure and recognition capabilities to potentially increase their business.