Donlen Presented with "Innovation Award" at 2015 Ericsson Supplier Event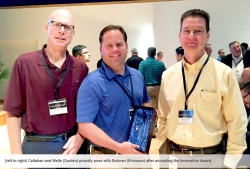 Northbrook, IL, June 04, 2015 --(
PR.com
)-- Donlen, the fleet industry's most customer-centric and technically integrated provider of financing and fleet management solutions, received the 2015 Ericsson "Innovation Award." Ericsson in North America presented Donlen with a supplier award for Innovation during its annual Ericsson Supplier Day event held May 19-20 in Plano, Texas. The supplier award in the category of Innovation is targeted to recognize a supplier that embraces innovative thinking and actively challenges the status quo. The award acknowledges a commitment to process improvement and continued investments in the latest innovation and technologies that result in time and cost-saving solutions.
Brad Bohnen Head of Fleet Management, Ericsson said "Donlen Corporation partnered with Ericsson to develop a customized GPS/telematics fleet offering for the Ericsson Region North America fleet of vehicles. This customized program allowed Ericsson to reduce operating costs and increase the safety of our fleet operators. In addition, after listening to Ericsson's desired service requirements, Donlen developed a new Consultative Service offering, which provided Ericsson with the necessary administrative back-office support to effectively manage the day-to-day operational aspects of the program. This consultative approach resulted in more efficient operations, reduced costs and lower accident rates."
"Being awarded Ericsson's supplier award for Innovation was a significant accomplishment for Donlen," Tom Callahan, Donlen president, said. "When Ericsson, a high-tech world leader in communication technologies, recognizes Donlen's technology, it validates that our fleet innovation empowers customers to do more and reduce costs. We are honored to receive this recognition."
"Donlen works hard to help each of our customers work more efficiently," Todd Welle, Donlen's regional vice president of client relations, said. "We listen, and through our flexible technology platforms, we can deliver a personalized approach to help Ericsson achieve its corporate goals."
For more information about Donlen, visit www.donlen.com.
About Donlen Corporation
Donlen is the industry's most customer-centric and technically integrated provider of financing and fleet management solutions for corporate fleets. Utilizing a highly consultative and strategic approach, Donlen helps fleets reduce cost, improve efficiency, and increase driver safety and productivity. As a testament to Donlen's excellent customer service, we received a 2015 Stevie Award for Sales & Customer Service in the Front-Line Customer Service Team of the Year category. Donlen's constantly evolving technology and innovative approach to fleet management earned us a 2015 Stevie Award in the New Business Intelligence Solution category, and we were recently named finalists for the Most Innovative Company of the Year Award and the Stevie Award for mobile apps. We have earned spots on the 2015 InformationWeek Elite 100, and the 2013 and 2012 InformationWeek 500 List of Top Technology Innovators Across America. Donlen was also named a Computerworld Honors Laureate for Economic Development in 2012, and received the CIO 100 Award in 2013. In addition to our innovation, Donlen's consultation excellence has been recognized on the IAOP The Global Outsourcing 100® list for nine of the last 10 years. Founded in 1965 and headquartered in Northbrook, Ill., Donlen is a wholly owned subsidiary of The Hertz Corporation (NYSE: HTZ). For more information about Donlen, visit www.donlen.com.
Contact
Donlen
Carlos Oropeza
847-412-5240
www.donlen.com

Contact