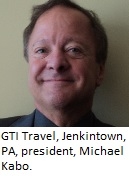 Haddonfield, NJ, June 15, 2015 --(
PR.com
)-- United States Senator Pat Toomey (R/PA) has recognized GTI Travel, Inc., of Jenkintown, PA on its coming 50th anniversary and congratulated the firm and staff for "serving U.S. organizations and corporations in their national and international meeting planning and travel requirements for 50 years."
In a formal Proclamation, Senator Toomey also stated GTI Travel "has arranged and coordinated safe travel for tens of thousands of American business men and women to destinations throughout the United States and the world while representing over 500 American client firms."
He also praised GTI Travel's founder and president, Michael Kabo for making "an outstanding contribution to the U.S. travel and meeting planning industry."
"GTI Travel's experience and high standards have set a hallmark for the industry under Michael Kabo's leadership," he added.
They include corporate travel management, meeting and incentive travel, transportation, lodging, and site selection.
State of the art technology is used at GTI Travel.
Included are online booking management, meeting attendee registration, customized client reporting and expenditure-saving analysis.
GTI also uses quality control robotics to ensure the lowest fare, plus best seating and travel policy compliance.
"While all of these modern processes are running, our experienced staff does constant monitoring, staying in touch with our clients to insure smooth travel," Kabo reports.
GTI Travel's web page is www.gtitravel.com. Additional information is available free at 1-800-223-3863.