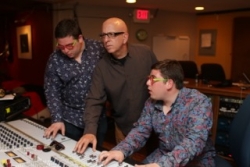 Twin Cities, MN, June 18, 2015 --(
PR.com
)-- The identical Potash Twins, trumpeter Adeev and trombone player Ezra (www.potashtwins.com), are finding their muse in Funkytown this summer. Just 21 but already making a name in both the jazz and culinary worlds, the Omaha natives charmed producer and songwriter Steven Greenberg enough to return to the recording studio to serve as Executive Producer on their second album, The Potash Twins, being cut in June at Essential Sessions Studios in St. Paul.
Greenberg's biggest hit under the band name Lipps, Inc., "Funkytown," was a worldwide smash. It hit Number One on four different music charts 35 years ago this month, while also being licensed in subsequent years to countless films, TV shows, advertising platforms, and sporting events.
Working as producer on the project with Greenberg is renowned musician Cory Wong, who recently shared a club stage with the Rolling Stones' Charlie Watts at the Dakota Jazz Club on Watts' 74th birthday in early June. Wong has played with Questlove, Alexander, O'Neal and others. He is also the co-founder of the highly regarded collectible indie label, Secret Stash Records.
Other members of the band on the album include: keyboard player Tommy Barbarrella (Prince, Stevie Wonder, Ziggy Marley); bassist Ian Allison (Jeremy Messersmith, Eric Hutchinson, Quietdrive); and drummer Petar Janjic (Dr. Mambo's Combo, Acoustic Alchemy, Nachito Herrera). The Potash Twins album is scheduled to be released this fall on a label to be determined. The brass duo's first album, Twintuition, was released in 2012 on iTunes, Amazon and Spotify.
The Potash (pronounced Poe-tash) Twins have very quickly made all the right moves since arriving three years ago in New York to study music, after jazz master, Wynton Marsalis, gave Adeev a lesson while they were still in high school in Nebraska and encouraged them both to pursue a career in jazz. Today Adeev studies under Dizzy Gillespie protégé, Jon Faddis, at SUNY Purchase, while Ezra, who received a full ride scholarship to Manhattan School of Music, studies Bass Trombone.
Adeev has also played private lessons with renowned trumpeter and Columbia recording artist, Chris Botti. The twins have likewise performed on numerous occasions with Jon Batiste, Stephen Colbert's new Late Night band leader, and also jammed with the New Orleans native in New York's Union Square. Their live gigs include venues such as Birdland, SXSW and Jazz at Lincoln Center, and major food events. They love to cook. Ezra and Adeev have played at major culinary events with the world's finest chefs, including the recent James Beard Awards in Chicago and the annual Cochon555 event in Snowmass, Colorado, sharing the stage with Public Enemy's DJ Lord.
"We didn't want 'a jazz guy' necessarily to help us with this new album," notes Adeev. "We wanted someone outside of the jazz world who has a more pop sensibility that can make our music more relatable to the public at large," adds Ezra, finishing his brother's sentence, as the twins often do. "We also wanted to surround ourselves with people who can do what we can't do, and the musicians that Steven and Cory have put together are very good at what they do."
"I was surprised when asked to take on this project," says Greenberg, who also produced albums by a handful of Twin Cities bands like The Suburbs and whose 1990's indie record label, October Records, produced CDs by The Honeydogs, The Delilah's, and Willie Wisely. "I haven't been in the studio for a long time, but I was intrigued when asked to produce an album with its roots in jazz. And when I heard the demos, I was impressed. I'm doing it because of the music. These guys make really great music -- pop folded into jazz."
"Adeev and Ezra write really catchy melodies with great hooks and musical lines that a lead singer would usually sing, only they play them instrumentally," notes Wong. "The music on their new album is very appealing: It's like someplace between Katy Perry and Miles Davis."
For more information -- or to schedule an interview about the project -- please contact Martin Keller, Media Savant Communications, 612-729-8585, mkeller@mediasavantcom.com
Twiiter:@potashtwins Facebook: www.facebook.com/potashtwins
Instagram: @potashtwins Vine: @potashtwins