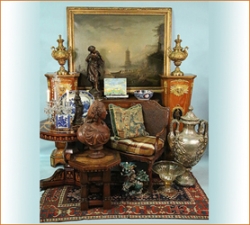 Houston, TX, June 22, 2015 --(
PR.com
)-- Fine Art & Antiques Auction
Wednesday, July 1, 2015 @ 6:30 PM
Lewis & Maese Antiques & Auction
1505 Sawyer St., Houston, TX 77007
Phone (713) 869-1335
Preview and bid on the auction catalog online @
LMAuctionCo.com
In-House Preview:
Monday & Tuesday, June 29 & 30 from 10:00 AM - 5:00 PM
Wednesday, July 1st from 10:00 AM - 6:30 PM
From the estate of the late Dr. Herbert Mesinger and other Houston estates, antiques and fine furnishings, artworks, including 18th and 19th century bronzes: Math, Moreau, Jean Verschneider, C. Anfrie. 18th and 19th century French armchairs, chest of drawers, cabinets, settees and display cabinets. Biedermeier fall front desk circa 1840. Mid-century modern Italian cabinets by Raymond Loewy, a Baker dining room table and chairs, vintage Baker furnishings, mid-20th century Henredon, Maitland-Smith furniture, an Austrian 1780's corner cabinet and display cabinets. Chinese antiquities and Chinese porcelains, Santos, chandeliers, lighting, fine Oriental rugs, custom machine made rugs, a Bengal tiger rug and fine estate jewelry.
Featuring artworks by: Thomas Hewes Hinckley, Stan Berning, Joey Horne, William Anzalone, John Worthey, Jeanne Norsworthy, Elena Lopez, Ford Beckman, Dick Wray, William Loyd, Ibsen Espada, Don Bagley, Robert Weimerskirch, Ricardo Breceda, John Clymes, Levi, Botti, C. Loft, H. C. Ting, K. Hoekin, Adickes, Bledsoe, Tobias and many more.
Accepting Consignments Daily
TX Lic. David Joseph Lewis #16317
Buyer's Premium: Inhouse 18%, Online 19%