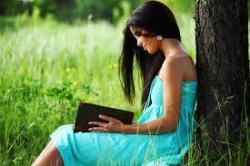 New York, NY, June 23, 2015 --(
PR.com
)-- Fran Briggs, journalist and Director of Operations of eMediaCampaigns!, has announced The Best of Spring Reading 2015, Part 2. It is the second of two exciting lists which puts the spotlight on talented and distinguished authors.
"The Best of Spring Reading 2015, Part 2 helps enthusiastic readers make quality decisions as it pertains to their reading choices - especially considering the innumerable choices on the market," says Briggs.
The reading list is worthwhile and generates an enormous amount of exposure for each author.
"Take a journey to exotic countries; come face-to-face with forces of nature; add to your intellect, and more," says Briggs. "These books not only promote literacy, they also showcase the talents of ten more authors who are capturing the attention of readers who enjoy a mass appeal of genres."
Below is the second 10 of 20 selections. The numerical order does not coincide with ranking. The numerical order does not coincide with ranking.
11. Dr. Shell's 100 Tips on Dating by Michelle A. Roberts, M. A. (Michelle A Roberts, Inc).
Simple tips for the newly singled or veteran couples that help enhance the dating scene.
http://www.michellearoberts.com
12. Hallelujah Anyhow Refined: A Memoir by Victoria Jones (Morris Publishing). Author, Victoria Jones, takes the reader on a whirlwind journey through a maze of codependency and into the discovery of God's restorative power. http://www.hallelujahanyhowrefined.com
13. Ooh That's Icky! by Beatrice C. Hector, OTR/L (Mount Vernon Books).
Tammy is a little girl with sensory issues that affect her interaction with things and people, until the Tactile Fairy comes to help her overcome her fears and have fun being a kid. http://www.amazon.com
14. The Other Man–Book 2 of the Sins of the Flesh Series by Parker J Cole. (eLectio Publishing). Leah has to make a choice between fantasy and fidelity. http://www.amazon.com/dp/B00PSGEKFW
15. Speak of the Devil by Lacha' M Scott (Urban Christian Books).
Christian Fiction. An entertaining read about reconciliation in a family. http://www.amazon.com
16. Give Me Strength by Kenneth Gayten (KennethGayten.com). Readers learn how to free themselves to be who they want to be, not who they were set up to be.
http://www.KennethGayten.com
17. The Skinny Rules by Bob Harper (Ballantine Books). Fitness Coach Bob Harper shows you how to really shed the pounds--whether you want to lose two, or two hundred! http://www.amazon.com
18. Growing Pains by Paris Love (iUniverse). Best friends Kiki and Myra grow up together in search of the desires every heart has: loyalty, respect, companionship, and most of all, love in this spectacular novel. www.growingpainsbook.com
19. The Silent Suitor by Elisabeth Fairchild (Ink Lion Books). The lovely Miss Sarah Wilkes embarks on her first season in the ton, and despite her blindness, becomes a huge success. http://www.amazon.com
20. I'm a Believer by Jessica Adams (Dunne). Junior high school teacher Mark Buckle struggles with the tragic death of his girlfriend Catherine in a car accident. Available at http://www.amazon.com